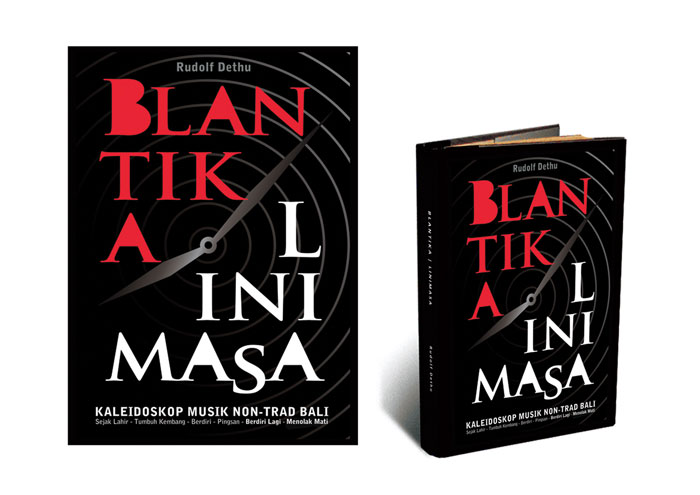 Day/Date: Saturday, 7 January 2011
Venue: Serambi Arts Antida, Jl. Waribang No. 32, Padanggalak, Sanur
Events: Discussion, film showing
Live music: Superman Is Dead, Navicula, Nymphea, Lolot, Discotionpill, Nosstress, Something Like Crazy, and Ayu Handayani (Feat Ayu Laksmi)
Free entry!
A special event to kick off the start of 2012 is the launching of the book "BLANTIKA | LINIMASA" which documents the non-traditional music scene in Bali since it's beginning. Rudolf Dethu, who's concept this book was based on, defines popular music in Bali in two categories: BaliBali and Balinesia.
These themes help to simplify mapping and categorizing of Bali music based on the language of the lyrics, not the musical genre. BaliBali is music that is written in Balinese, and Balinesia is music with Indonesian or English lyrics.  This nomenclature going across multiple genres is interesting because – maybe this only happens in Bali – many musicians use their local dialect in non-tradition music, such punk rock or reggae bands with Balinese lyrics.
But this isn't only about language. BaliBali musicians have an amazing history, for example Lolot, a Balinese musician who's album sales reached 70,000 copies, a number that is hard to reach even by national musicians today. Yes, Bali has many anomalies.
Besides the interesting terminology used, the release of this book has many reasons to provoke. It may be the first book in Indonesia to document the local music scene of a specific area. This book was not written by music scenesters, but by two journalists, Anton Muhajir and Alfred Pasifico. The third writer is Gede Roby Supriyanto, vocalist of the band Navicula, who added more dimensions to the book and speaks about being introduced to Balinese pop music while living outside of Bali (Palu) until he became an active part of Bali's current music scene.
To start off writing this book, the team of writers consulted some key players in Bali's music scene. These included musicians, senior journalists, recording studio engineers, and local record labels. These first discussions became the basis of mapping the Bali's music scene, so there was no narrative hidden from the writing team.
The arrival of this book hopefully will bring about the birth of more comprehensive documentation, adjustments where the narrative may be crooked. But more importantly, it invites similar efforts from other areas. Because history only belongs to those who write.
Book orders:
Email: rudolfdethu(at)rudolfdethu.com with the subject "Order B|L".
Price: Rp 10.000, shipping not included.
Related Posts: