Navicula didn't just write a song about the critically endangered orangutan. Now, without sponsorship or promoters, they are launching a tour to one of the last remaining rainforests, Kalimantan.
Name one song with an environmental message. There are a lot. Even one of Indonesia's national music magazine's (printed on paper from trees, of course) released one story covering 100 environmental songs in commemoration of Earth Day.
But what does the planet really need now, while facing degradation and destruction? A group of so called artists singing about nature, like the sounds of people celebrating in the desert?
Musicians who wish to touch our hearts and minds need to put in more effort than creating and producing songs, then performing them on stage. Especially in the context of fighting for our environment. Especially remembering our intense social media fever, where people feel accomplished just for being hashtag activists: then keep tweeting about an issue, but that's all they do. While environmental degradation continues to systematically destroy our environment.
Last year saving orangutans was a popular topic. The hashtag #SaveOrangutans was used often on twitter. The trigger was the shocking news from a number of palm oil plantations in Kalimantan. They were promising a certain amount of money to workers who could kill and bring in orangutans, which are considered pests to the palm oil trees. How cruel. But the reality is that palm oil is considered more important as global resource than the continued existence of this large red ape which shares 97% of the same DNA as humans.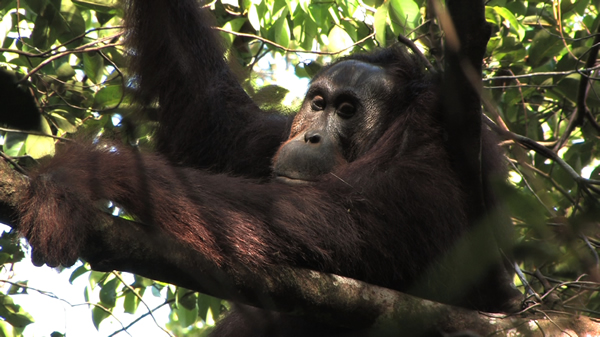 In December of 2011, Navicula released the song Orangutan as free online download. Other musicians, such as Shaggydog have also written songs about the critically endangered Orangutan. Robi Navicula – who has a twitter account, though rarely uses it – wrote the song Orangutan in April 2011. The song was written Navicula's 7th album which is in negotiations to be released in the United States. Besides the song Orangutan, this album also has songs like Harimau! Harimau! which is dedicated to the conservation of the remaining 400 Sumatran tigers, which are facing extinction due to habitat loss.
Navicula has been performing the song Orangutan live from stage to stage, and even on national TV stations. Since releasing the track, many fans have asked that Navicula come and tour in their city, especially in Kalimantan. Navicula hopes to bring this song live to Kalimantan, the last tropical rainforest on earth and habitat to the critically endangered orangutan.
Navicula may be considered 'legendary' and accomplished, their fan base is grassroots and dedicated, but this doesn't necessarily mean they are financially successful. Planning an independent tour to Kalimantan may be more difficult for Navicula than recording a popular song. Seeking standard concert sponsor and promoters to fund a tour to Kalimantan may not be the right route for Navicula as they are not an ideal band for cigarette brands wanting to make bring in money through concert promotion.
Financial concerns have been the main factor preventing Navicula from touring Kalimantan. But there is still potential to fund the tour through Kickstarter.com, a platform for crowdfunding creative projects. Crowdfunding is a business phenomenon in the current economic recession which the United States is still recovering from and the bankruptcy of economies such as Greece. Massalution, a research firm dedicated to crowdfunding and crowdsourcing released their Crowdfunding Industry Report earlier this month. The firm collected data from over 170 (38 percent of the total) crowdfunding platforms.
Massalution discovered that throughout 2011, crowdfunding platforms have raised over 1.5 billion US dollars to fund around 1 million projects. These numbers are astounding. But before you start thinking about how much money your going to raise, you should know that not everyone can make a project that is interesting enough to get lots of people wanting to support it. All submitted projects also have to pass through a selection process, and be approved by the portal administrators. Navicula's project, a Borneo Orangutan tour, has been approved by Kickstarter.com.
Navicula's project will raise funds to tour East and Central Kalimantan through the target funding of 3000 US dollars, which needs to be raised within 45 days. As compensation for backers, Navicula is offering free song downloads, t-sirts, CDs, Kalimantan handicrafts, private home performances, and even an offer to join them on tour to Kalimantan.
Navicula is the first musician or band from Indonesia who has launched a project on Kickstarter. There have been a few projects on Kickstarter about Indonesian musicians, but the projects were actually by foreigners, not by the musicians themselves. For example a documentary film about one of Indonesia's most influential punk collectives launched a Kickstarter project with a target goal of US$ 16,000 to be reached within 45 days, and successfully raised US$ 16,450. This project was a collaborative between 3 filmmakers hailing from America, China and Malaysia.
Kickstarter backers must have a US credit card. Of course, these makes it difficult for people in Indonesia to be involved in Kickstarter. Because of this, Navicula has launched a supporting project through Patungan.net, with a funding goal of 5 million rupiah.
And as if there is just not enough you can do for our red ape friends, Navicula has also chosen the song Orangutan to represent them in the International band competition Planetrox. The winning band will be invited to perform at Envol et Macadam in Quebec, Canada. Voting will continue until June 24th, and 5 finalists will be selected to compete live in front of a jury in Bandung on July 8th.
Navicula is the only one of the 10 finalists to submit a song in Indonesian. Other Indonesian bands may feel more confident submitting an English track to an International band competition, but Navicula feels their songs in their mother tongue are strong enough as is: Orangutan. It's in the message, not the language.
Navicula invites you to join their acoustic show and launching of the Borneo Tour:
Saturday, June 16, 2012
Starts at 18.00
At Café Tjikini Jl Cikini Raya no 17 Jakarta Pusat
Performance by: Navicula, Adrian Adioetomo, Balian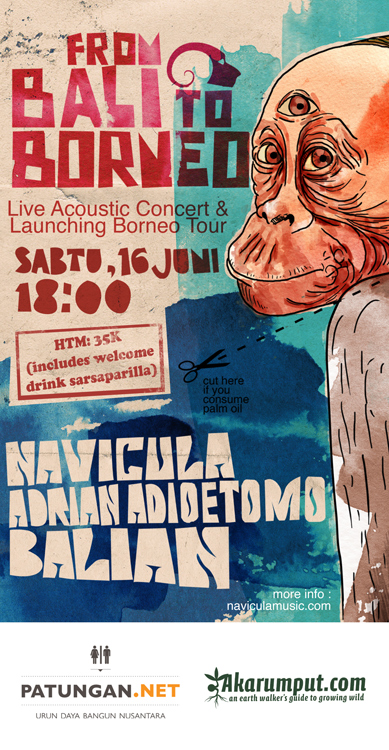 Related Posts: