The Indonesia Green Awards are deceiving the public and awarding environmental offenders. Companies who protect the environment do not deserve an award; it is already their responsibility.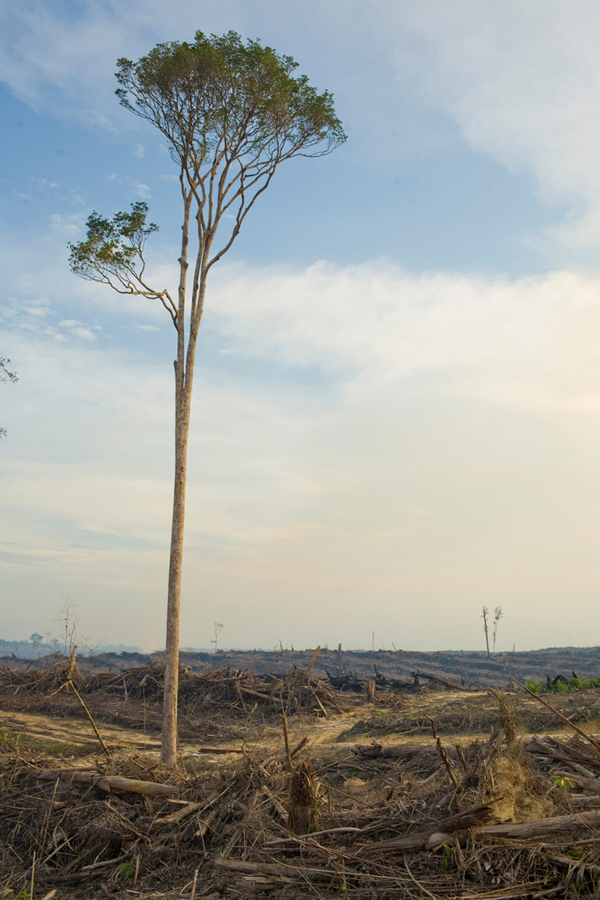 Too many environmental conservation efforts are a joke. But there is nothing funny about what they're getting away with under the guise of being 'green'.
On September 28th the Indonesia Green Awards were announced. The list of winners in the business category included PT Freeport Indonesia, Danone Aqua, PT Telekomunikasi Indonesia (Public Ltd), BSD Green Office Park, HSBC Indonesia, PT Antam Public Ltd), PT Semen Gresik (Public Ltd), PT Jasa Marga (Public Ltd), Surabaya Plaza Hotel, PT PP (Public Ltd), PT BNI (Public Ltd), PT SMART Tbk (West Kalimantan), PT Riau Andalan Pulp and Paper, PT Indocement Tunggal Prakarsa Tbk, PT Astra Agro Lestari Tbk, PT Telekomunikasi Selular, PT Bukit Asam (Public Ltd), Sinarmas Forestry, PT Wiraswasta Gemilang Indonesia, PT Bakrieland Development Tbk, Djarum Trees for Life, and Total EP Indonesia.
Individuals who were honored included Joko Widodo (the mayor of Solo), Valerina Daniel (author of the book Easy Green Living), Hugua (regional head of Wakatobi), Nugie (bicycle enthusiast), Tony Sumampau (founder of Taman Safari Indonesia), M. Ridwan Kamil (who founded the initiative Jakarta Berkebun, Gardening Jakarta), Syahrul Effendi (mayor of Jakarta Selatan), Idal Amal and Amal Alghozali (founders of Akademi Berkebun, the Gardening Academy), Awang Foroek Ishak (governor of East Kalimantan), Cathy Lengkong (head of Ikatan Pemulung Indonesia, Indonesian Association of Trash Collectors), Zaby Febrina (Komodo conservation supporter), and Erbe Sentanu (head of Greenheart Indonesia).
It is surprising that companies exploiting natural resources, like Freeport and Aqua Danone, can be included in the Green Award nominations. But even more surprising is how mainstream media, such as Kompas, Jakarta Post, Republika and detik.com , reported about these awards without any acknowledgment of their irony. Not once did they raise critical questions about how the winners of these awards were selected or how the public may be deceived.
But there is deception involved, because the award is actually given based on a company's Corporate Social Responsibility (CSR). What is evaluated is a company's CSR programs focused on the environment, not the company's environmental conservation principles or sustainable operational standards.
Companies implementing environmental conservation principles don't deserve an award; it is their obligation to conserve the environment. In fact, this obligation is already laid out clearly under the Indonesian National Law No. 40 of 2007, article 74, concerning Limited Companies.
According to the contents of the legislation: (Paragraph 1): The Company having its business activities in the field of and/or related to natural resources, shall be obliged to perform its Social and Environmental Responsibility. (Paragraph 2): Social and Environmental Responsibility as referred to in Paragraph 1 shall constitute the obligation of the Company which is budgeted and calculated as the cost of the Company, implementation of which shall be performed with due observance to appropriateness and fairness. (Paragraph 3): The Company that fails to perform its obligations as referred to in Paragraph 1 shall be imposed with sanctions in accordance with the provision of regulation.
CSR obligations are also outlined in the Indonesian Law No. 25 of 2007 concerning Investments. According to Article 15, Point B:  Every investor shall have an obligation to implement Corporate Social Responsibility. Article 16, Point D elaborates: Each investor shall be responsible for preserving the environment.
The objectivity of the award organizers needs to be questioned. On the home page of the Indonesia Green Awards (IGA) website (indonesiagreenawards.com) are included logos of the award's partners and sponsors. The logo of the Indonesian Ministry of Forestry is positioned next to the logos of Danone Aqua, Bakrieland, Smart Agribusiness and Food, Riaupulp, and Sinarmas. One has to wonder, then, based on this kind of marketing, if the award isn't more of a 'you scratch my back, I'll scratch yours' arrangement. In other words, a company gives money to the award organizers, and in return it receive accolades.
The organizers of the award are La Tofi School of CSR and Business & CSR Magazine. Both groups are under the umbrella company of La Tofi. In its second year, the IGA website claims: "…We are also considering large companies, many of which have made a positive example for the public by showing concern for the environment. Palm oil companies, for example, now implement "palm oil forestry" on deforested land that has been damaged and needs rehabilitation. Mining companies who have done a good job of rehabilitating left over mining land are also an example, and these companies should be appreciated."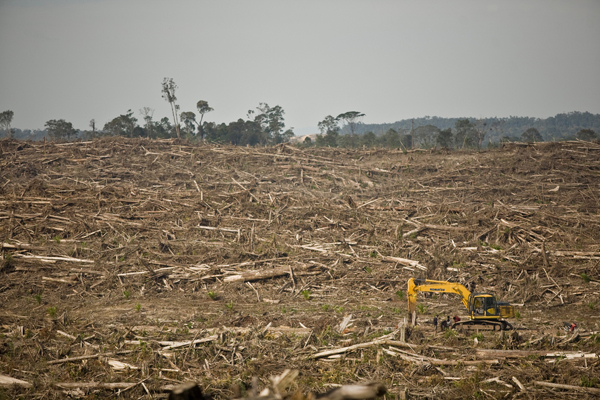 It is a travesty that the awards point to palm oil and mining companies for green practices. And the Indonesia Green Awards (IGA) organization's term "palm oil forestry" is completey misleading. About 80 percent of palm oil plantations are converted from natural forests. The problem of palm oil plantations needs to be addressed in detail in order to appreciate the unjustifiable choice of such companies for the honor of IGA awards.
WALHI has documented that the government gives permits for over 15.9 million hectares of forest to be used as palm oil plantations. However, only 5.4 million hectares have been planted. The remaining forestland is harvested for timber and then left barren by the companies. Getting a permit for plantations is one way to be able to log timber. Even worse, in some areas, opening forests for palm oil plantations is caused by manmade forest fires. Palm trees require a certain level of soil acidity, which can be improved by burning the land.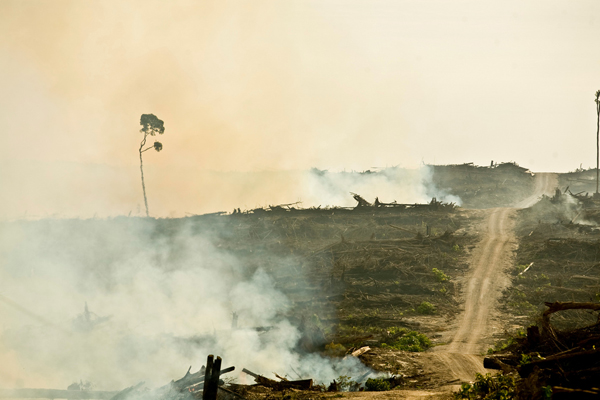 One palm oil tree requires 6-8 liters of water per day. In North Sumatera, not one water irrigation path can last in a palm oil plantation. The roots of fully grown palm oil trees are very strong and take up to 80 years to naturally break down due to microorganisms. The only way to speed up the process is to physically destroy the roots. If they are not destroyed, the next planting of palm oil must be done in a new location and the first location is left barren, where only archaic plants like ferns can survive.
An entire ecosystem is devastated, because when no plants can grow, the forest loses much of its functionality as hunting grounds a source of medicinal plants, rattan, and clean air. Jungle species such as locusts, wild boars, and monkeys are forced to find food elsewhere, including on people's farms.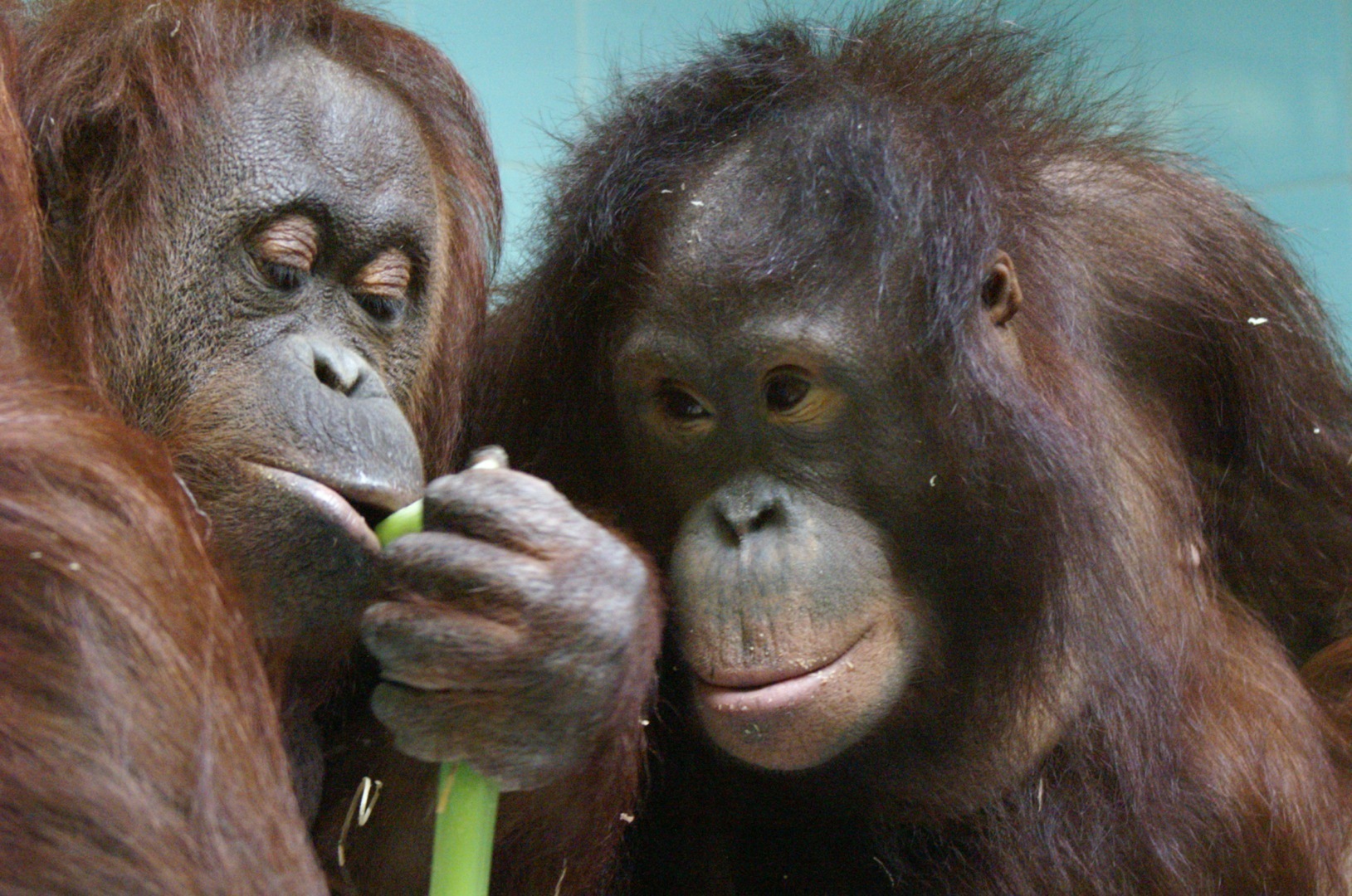 Recently, the Indonesian press has released shocking coverage of orangutans (pongo pygmaeus), which were hunted down in Puan Cepak village, Muara Ancalong Region, Kutai Kartanegara. The orangutans in the area were allegedly damaging palm trees, causing the palm oil harvest to fail. So villagers caught and tortured the orangutans. As if this brutality was not enough, some villagers even decapitated the orangutans.
This ruthless massacre took place in an area of concession of a Malaysian palm oil company, which was actively expanding its land use. This palm oil plantation area is positioned next to a protected section of forest (establiashed as a KBK – Kawasan Budidaya Kehutanan, Region of Forestry Cultivation) and orangutan habitat. The orangutans' habitat, which is being quickly destroyed, were forced to scatter out of their protected area, and in doing so damaged some of the trees growing on the plantation.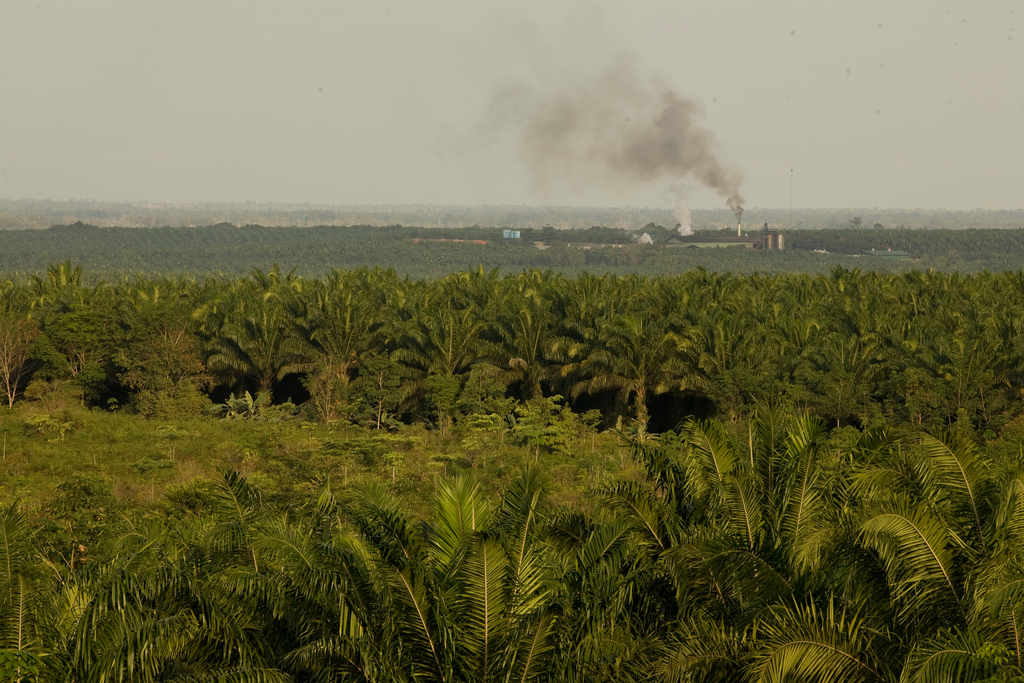 The company held an open contest in which "anyone, either company employees or village resident, who capture an orangutan dead or alive would receive a cash prize of anywhere from Rp. 500,000 to Rp. 2,000,000. The prize was decided based on the size of the animal caught."
How merciless.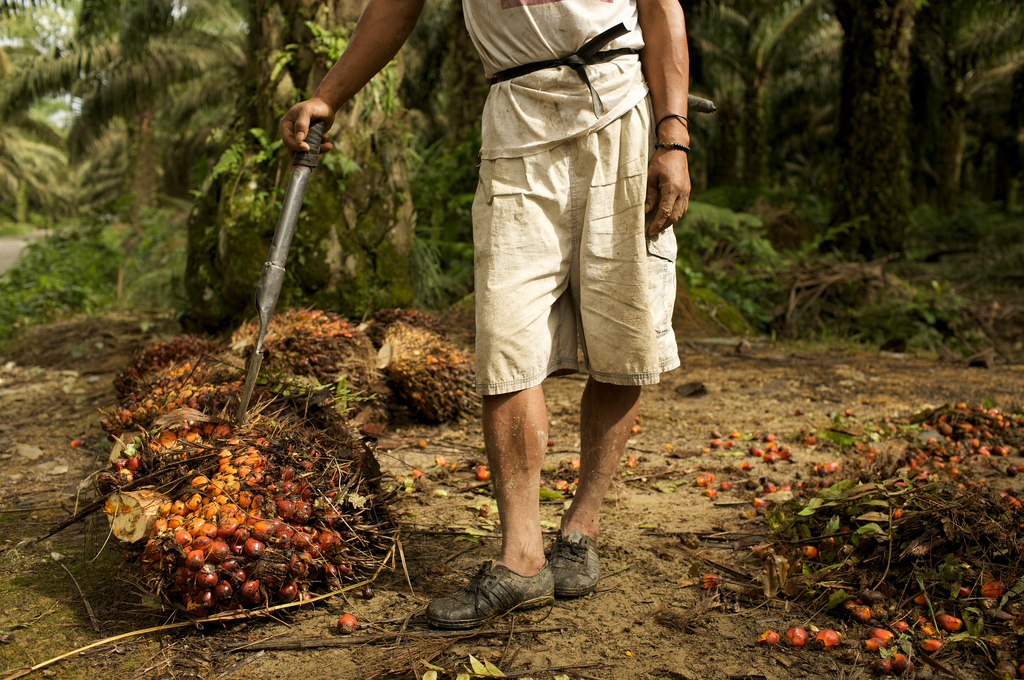 Besides destroying the habitat of these animals, the arrival of palm oil plantations has also created an economic dependence of local communities towards the palm oil plantation investors. After losing their source of income from agriculture, following the destruction of their water irrigation systems, local residents are forced to become low-paid fieldhands for the palm oil industry. Once farming land has been turned into palm oil plantations, local communities can no longer produce their own food. So, where, exactly, is the social responsibility of these companies receiving Indonesia Green Awards?
---
Photos by Daniel Kleeman and David Gilbert (Rainforest Action Network).
Related Posts: