Bali based band, Navicula has launched the start of their Borneo Tour (Kalimantan) as part of their orangutan conservation campaign by holding an acoustic concert in Medan, on 24 July 2012. The event titled "Road to Borneo Tour" is aimed to raise awareness about the issues surrounding deforestation, a threat to the endangered species in Sumatera, especially in the area of Tripa peatland in Aceh.
"The concert in Medan is a warm up before we tour Kalimantan this September. During preparations for our upcoming Borneo Tour, we have heard about many pressing issues affecting Sumatera, such as the conversion of the Tripa peatland forest, which is an orangutan habitat. With the support of organizations that are concerned about these environmental issues, we are able to arrive in Sumatera, and chose Medan as the city for the main event," said Gede Robi Supriyanto, vocalist of Navicula writing from Bukit Lawang, North Sumatera, Friday (20/7).
Robi has travelled to Bukit Lawang to trek through the Gunung Leuser National Park. His trip through the rainforest is a chance for Robi to gain more experience and understanding, to better campaign for environmental issues through music. Navicula's Road to Borneo Tour in Medan is supported by Yayasan Ekosistem Lestari (YEL), Sumateran Orangutan Conservation Programe (SOCP), PanEco, Sawit Watch, and Wahana Lingkungan Hidup Indonesia (Walhi) Sumut.
The concert will be held at Rama Gardenia Cafe on July 24, and Navicula, a band active since 1996, will perform an acoustic set. The event will also include an environmental discussion focused on saving the Tripa peatland, as well as a Sumatran orangutan and tiger photo exhibition by Mata Kamera Community of Medan.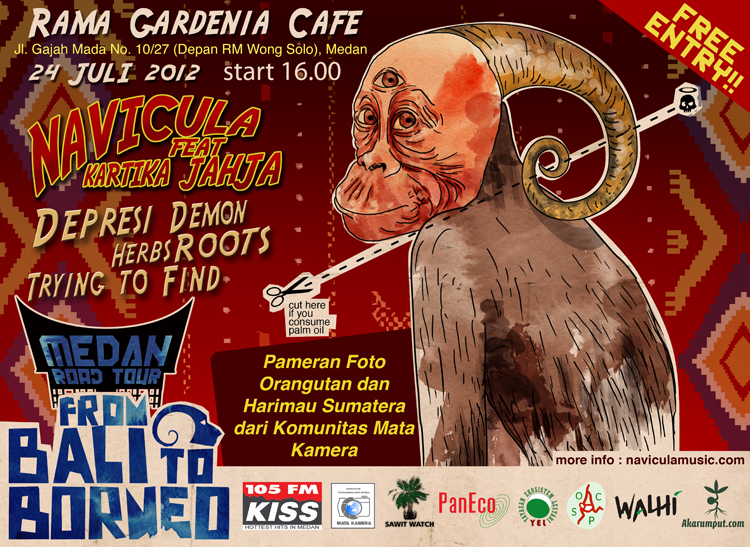 Navicula, who has consistently been advocating for environmental issues will leave for a Borneo Tour in East and Central Kalimantan this coming September. The tour is themed around the critically endangered orangutan, facing extinction as a result of deforestation and the massive expansion of palm oil plantations.
Navicula's Borneo Tour is paid for through crowdfunding projects on Kickstarter.com and Patungan.net. On kickstarter.com, Navicula launched a project with a funding goal of US$3,000, while on Patungan.net the funding goal was Rp.5 million. Both projects have exceeded their funding goal, and the project on Kickstarter.com is still running until 29 July 2012. As compensation for supporting their project, Navicula has offered digital download of their songs, t-shirts, CDs, traditional handicrafts, private gigs, and even a ticket to join the tour in Kalimantan.
"We're really happy our Borneo Tour crowdfunding project has succeeded in gaining the interest of people who support our mission to use music as a media for environmental campaigns. This is also an example of how independent bands can hold a tour without funding from sponsors or promoters," added Robi.
In December 2011, Navicula released the song Orangutan as a free download under a creative commons license. Vocalist of Navicula, Gede Robi Supriyanto, wrote the song Orangutan in April 2011. The track will be included on Navicula's 7th album, which is still in progress. The album will also include tracks such as Harimau! Harimau! (a tale of the last Sumatran Tiger) which is dedicated for the conservation of the Sumatran Tiger, of which only 400 exist in the wild due to habitat loss.
Navicula has been performing the song Orangutan live from stage to stage, and even on a popular music program on national TV. Since this exposure, many Navicula fans have requested that the band travel to perform the song live in their cities, including requests from fans in Kalimantan. "As a band from Bali, which is far from the center of the music industry, we are proud to be able to tour Kalimantan, one of the last remaining rainforests and habitat to the critically endangered orangutan, and perform the song Orangutan live there," says Robi.
An International Campaign
The song Orangutan has made Navicula the winners of the International band competition Planetrox. Navicula will be travelling to Quebec, Canada to perform at the Envol et Macadam Festival on the 7-8 of September. "This is one way we can raise awareness about the plight of the orangutan on an International level. Environmental problems, whether in Kalimantan, Sumatera or Antarctica are the responsibility of everyone inhabiting this planet," says Robi.
To participate in the Planetrox Competition, Navicula submitted the music video Orangutan, which was chosen as one of the semi-finalists. The 10 semi-finalists then competed in an online voting stage, from which 5 finalists competed in a live competition held in Bandung on 7 July. The jury chose Navicula as the winners to represent Indonesia in Canada.
Besides performing in Canada, Navicula is also in the running to record in Hollywood, USA. Out of 500 videos from 43 countries, Navicula has been chosen as one of the top 10 finalists for the RØDE Rock competition. If they win the online voting stage of the competition by 31 July 2012, Navicula will be flying to Hollywood, California to record three songs at the legendary Record Plant Studios. Navicula is currently in the lead for the online voting stage.
Related Posts: