Yu Sing creates examples of effective architecture, which take advantage of used and environmentally friendly materials.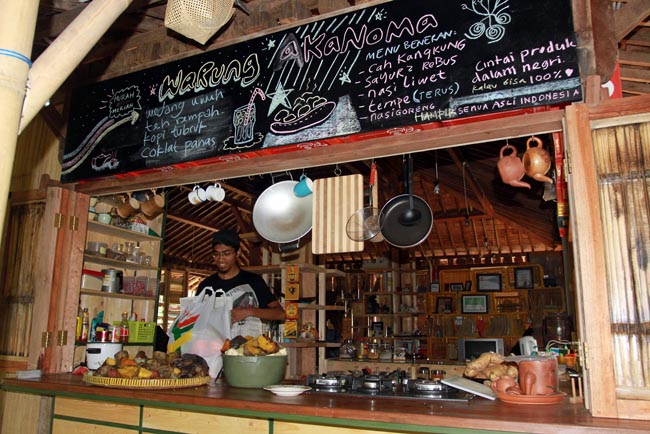 "Love Indonesian Products, If Possible 100%"
This message is written in chalk on a wall on the outside of the kitchen. The folding windows make the kitchen feel like a traditional warung (an Indonesian food stall). The glasses, pots, cutting board, kettle, and an irus, a traditional tool for mixing food from coconut husk, are arranged hanging above.
The warung vibe is even more complete with a long bamboo bench positioned outside the kitchen. Inside, discarded drink crates of yellow and red are arranged as storage space for kitchen spices and food.
The kitchen is located next to the main entrance to Akanoma Studio. Yu Sing Lim (35 years old) along with Benyamin Narkan, Anjar Primasetra, Peter Antonius, Iwan Gunawan, Wilfrid, and Yopie Herdiansyah use a joglo building (a traditional wooden Javanese building) as their main studio space. The joglo has been raised on stilts, similar to traditional house designs in Kalimantan.
The walls of this traditional Javanese building have been modified. As opposed to the wooden walls normally used, they have installed window frames spliced together with colorful chipboard and glass nako. This material is used surrounding the entire joglo.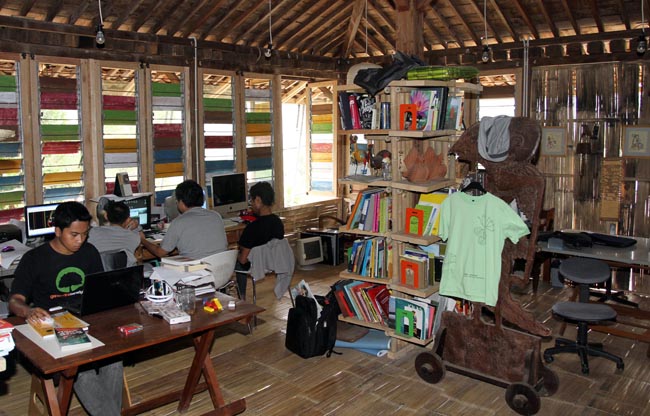 Inside, the space is open with no separators. Tables are arranged next to each other with computers on top of them. The architects work from this studio in a homey atmosphere. The four pillars inside the joglo multi-function as shelving for books. Old plastic containers, which were used for storing vegetables at the market, have been reclaimed and are used as shelving to store documents.
Bamboo is very visible within the studio design. The plans seem to optimize the flexibility and strength of bamboo. Besides used as floor mats, larger bamboo poles make up the columns of the building.
The use of bamboo is also visible along the walls of rooms towards the back of the studio. There is room to meet with clients, a sleeping area for staff, and guest rooms which are closed with bamboo poles of different sizes positioned both vertically and horizontally, some as small as your finger and others the width of an outstretched adult hand.
Reclaimed used materials can be seen in the bathroom. A combination of used glass bottles and exposed brick wall. Besides functioning as hanging pens, the bottles also reflect natural light into the bathroom.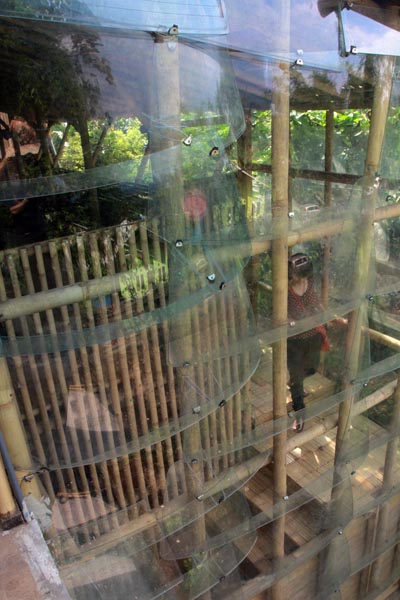 Yu Sing also uses bamboo for stairs. "It's cheap and it's a great alternative," he said. The right stairway towards the front of the building is enclosed with discarded car windows. The curved windows are clamped in place then tied to bamboo poles using wire. "We needed that area to use transparent materials. It turns out in this village there is a collector of used car windows, so we experimented with them. The cost was quite inexpensive," says this architect who graduated from Institut Teknologi Bandung.
This two-story building constructed at 700 meters above sea level can be seen towering within the village. The studio itself is built over 650 square meters of land. Far from the city, it is located on Jalan Tipar Timur, Laksana Mekar Village, Padalarang, in West Bandung. The location is closer to the Purbaleunyi toll (Purwakarta-Bandung-Cileunyi) than it is to Bandung city. "This location was chosen because our financing is limited," explains Yu Sing.
Previously, Yu Sing contracted a house as his studio space. However, the cost of the contract was not cheap. At the same time, Iwan, Akanoma's drafter, was searching for land and was offered a plot west of Bandung city. "He was looking for land and came across a large plot. So we decided to share it between the three of us and the studio was built using the least expense possible," says Yu Sing.
The main studio component is the joglo, which on its peak is adorned with two chicken statues from Solo. "We moved the joglo here after purchasing it months ago. We didn't have enough money to build an office. When we bought the joglo, we didn't yet have plans to build an office," explained the author of the book Mimpi Rumah Murah (Dreaming of Inexpensive Housing).
Akanoma studio in a way no represents Yu Sing as an architect. He believes architecture must have roots. For Yu Sing, using a joglo, modified with bamboo, as the main building component represents the current role of architecture in Indonesia.
"I have a dream to create a sustainable city village, to slow the trend of villages being displaced and becoming victims of development. People should have a permanent village where they can live prosperously and comfortably. Our studio is in the village, so we provide a library and social space for the surrounding residents to use," says Yu Sing, referring to the porch area and public library located underneath his studio.
Unfortunately, Yu Sing explains, the local community has not yet used this social space for their meetings. "If they need it, they are welcome to use the space. What is being used now is the public library, almost every afternoon kids come to read books here. The books in are library are mostly donated," he said.
Yu Sing has also taken efforts to make sure the building is environmentally friendly. This long-haired architect intentionally extended the roof of the joglo, and attached a number of metal pipes at an angle in a V shape to create a buffer. These metal pipes are connected to the gutters around the roof. They function as a buffer, as well as a rainwater harvesting system by directing rain into a water absorption tank.
Besides being environmentally friendly, Akanoma also makes an effort to produce their own food by planting vegetables around the studio land. "We have planted basil, long beans, eggplant, leunca, chili, cucumber, cassava, cosmos flowers, and more. We also have a pond used to soak bamboo during the preservation stage, which has an additional function as a fishpond. We have already harvested Nila fish for food. Since our studio is quite far away from everything, we usually cook our meals here" he said.
Related Posts: