A visionary resisting compromise. Since the early 1990s he has been talking about the exploitation of Bali, even though his concerns were voiced alone.
In 1991, the word rap was not popular in Indonesia. Let alone appreciating it as a musical genre. Iwa K's album, which is known as the pioneer of rap in Indonesia, was released in 1993. Two years before that, the song Bali Vanilli, which included many rap verses, was a hit on the national charts, and the music video played over and over again on television stations.
But Igor never called himself a rapper. He never called himself a reggae singer either, even though he pioneered reggae music in Indonesia when he released the album "Langkah Pertama" in 1981. On that album Igor Tamerlan Djoehana Wiradikarta included three reggae tracks.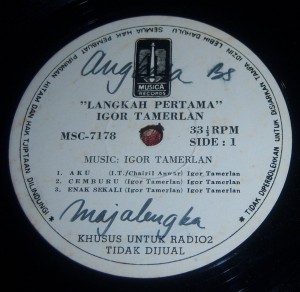 On the album "Langkah Pertama" which was produced by Musica Studios, Igor dedicated the song Enak Sekali to the dangdut king Rhoma Irama. Igor was not embarrassed to consider the reggae music which he had been playing since 1973 in the same class as dangdut. He also included the work of the poets Rendra (Lautan) and Chairil Anwar (Aku) in his musical compositions. At that time in Indonesia the term musical poetry was not yet known. Though it is not clear if he included it just as a sensation or if he felt close to the literary work. According to Igor, he came across those verses in a poetry anthology in Paris (Tempo 7 Agustus 1981).
But who remembers Igor now, besides knowing that his name once had risen and is now forgotten? I was researching Igor Tamerlan while writing for the book "Blantika | Linimasa", a documentation of non-traditional music on Bali since it's arrival in the 1960s. I interviewed a few people who were active in the Bali music scene, one of them was Jimmy Sila'a, owner of the recording studio Midi Aneka Suara and musical composer at Aneka Records. Since the 1980s until today, Jimmy Sila'a is a well known composer of Balinese pop music.
It has been three years since Igor moved from Bali to Jogja. I planned to go to Jogja to interview Igor. I sent him a message through Facebook. I waited almost a month, but there was no reply from Igor.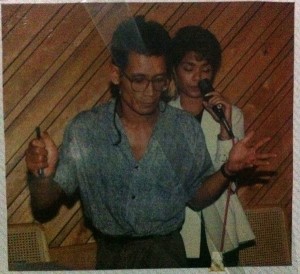 I learned more about Igor from Jimmy. According to Jimmy, Igor was a visionary ahead of his time. "He was the first person in Bali to use a midi. Before people had Macintosh computers, he was using one. He may have been the first person in Bali to use a Mac," said Jimmy.
Igor was such a visionary that his ideas were often thought of as trivial exaggerations. "Before people knew much about the Internet, he already said 'I will sell my music on the Internet'. Who could believe something like that then? But now it's happened," said Jimmy.
Igor has an obsession with technology. He can play any instrument, even if his skills are just basic. Igor modifies technology when creating music. He created something he calls techno gong. It is an instrument that looks like a row of metal gongs but it is electronic and part synthesizer. "He made two of these instruments, someone invested in them. But it did not progress further than that," said Jimmy.
Igor lived for decades in France, following his father who was a diplomat there. This man of Sunda descent, after living in France for 30 years, chose to stay in Bali when he returned to Indonesia. Even though he studied architecture, Igor had high ambitions in music. The music he created was something unknown to most Indonesians. Igor had been long obsessed with merging traditional and modern music. In the song Bali Vanilli he raps in Balinese, accompanied by traditional music and modern instruments. Bali Vanilli feels fresh, especially with the music video that is quite odd, featuring a bemo (Balinese public transport) as the main icon in the clip.
My interest in interviewing Igor grew even more. So I called him via telephone. He did not answer. I sent a text message. He answered. Igor was available to be interviewed. But under the conditions that a certain amount of money was needed to make it possible for me to meet him. He never said that the money was compensation for his time, and he also never asked that I was the one who should provide it. Well, I thought it was me who needed him and the amount of money he asked for really wasn't too much.
However, my partners in publishing the book did not agree we to provide the amount of money Igor requested. I still wished to meet Igor in Yogyakarta and provide the money he needed from my own advance for writing the book. But the deadline for finishing this book drew near; it must be completed in time to be released during the Bali Creative Festival, 25-27 November 2011. In the end I did write about Igor in the book Blantika | Linimasa, based on my interview with Jimmy and other research from archives.
My article about Igor was finished, when one night on November 12th I received a Facebook message from Igor. "I'm sorry conditions have prevented us from meeting… Have a look at this. "BALI VANILLI 21" by Igor Tamerlan." The message included a link to his YouTube page.
I watched the video he sent. The beginning was especially captivating. There is a narration of himself as an animated character, who says: "This is my latest but also my last creation, because by the time you watch this I will be gone forever."
Right after watching the video I called Igor. He answered. I really wasn't ready for our conversation. But I there we were.
I told him I had just watched the video he sent and I asked how he was. He spoke of his depression about his long time condition and current conditions, which he tried to illustrate through that video. I forgot to record our 45-minute conversation.
I asked him what he meant by the narration at the beginning of the video. He said he had no hope left in life, either spiritual or creative. "I am like an airplane without air. It falls. All that I am will only last for a few days more," said Igor, coughing while he spoke.
He also said he only had Rp. 150,000 left. In Yogyakarta, a family provided him with a room in their own home, a place for Igor to stay and use as a studio. Economically, Igor felt like there was nothing else he could sell. And creatively, he feels alone with his ideas to remind people about the exploitation of nature and traditions, as well has the deterioration of Indonesia's national identity while being a the center of transnational investment.
I could hear despair and loneliness behind the sound of Igor's voice. Loneliness is expected, remembering Jimmy's words about Igor being an artist who resists compromise. "It's difficult for someone as talented as him to find projects," said Jimmy.
Jimmy gave an example when Igor created a jingle for the Bali Post newspaper. Gito Rollies sang on that track. Though it's not clear what was outlined in the initial contract, at one point Igor threatened to sue Bali Post unless they paid the royalties to that song, or they had to stop using the song. Until today Bali Post still uses the jingle Igor created.
Even though he resists compromise, from listening to his music you can tell he has a good sense of humor. He has a satirical quality sometimes hidden in metaphor, sometimes left naked and exposed. In Igor's video he brings the Walter Spies painting Die Landschaft und ihre Kinder (1939) to life through animation. Besides being a painter, Spies was also a choreographer. In 1930, Spies and Wayan Limbak choreographed the moves to the famous kecak dance. Limbak was one of the first Balinese artist to promote the beauty of Bali abroad by bringing them the kecak dance performance.
The paintings of Spies, the kecak dance brought by Limbak, and the artwork of other artists such as Adrian Vickers was the beginning of promoting tourism to Bali. The term paradise island has built up Bali to what it is today. This small island is dependent on the tourism industry which can never be fulfilled, and will be forced to receive more and more investors, like the image Igor uses in his video of a syringe shooting buildings into a map of Bali.
Bali Vanilli talks about foreign tourists and Bali. The word Vanilli is a reminder of the lip-sync scandal by the duo Milli Vanilli which grabbed world attention in 1989.
The word Vanilli also reminds us of the vanilla crop production boom in Indonesia in the early 1990s. At that time vanilla could sell for a high price, everywhere farmers changed their crops to vanilla. The vanilla phenomenon was similar to clove production which was successful until it was destroyed by the trade system. The price of vanilla was like a balloon being pumped full of air, it grew and grew, until it burst. Vanilla could not sell. Farmers in Sumatera, Java, Bali, and Sulawesi were devastated and even burned their vanilla plants to the ground.
Somewhere in between Milli Vanilli and the vanilla crop, maybe through Bali Vanilli Igor is talking about uncontrolled development and exploitation. Bali Vanilli is still fits the context of today. Bali has not slowed down exploitation, even though its capacity is limited being such a small island.
It's not uncommon to hear people say "Bali is no different from Jakarta" when they are talking about the traffic in Bali. Of course this paradise island was not designed to be metropolitan, but is forced to accommodate huge infrastructure for the tourism industry. Professor Ida Bagus Mantra, a previous governor of Bali, saw Bali as a big village. Mantra never imagined this big village would ever need to consider flyovers or a toll way as solutions to deal with traffic problems.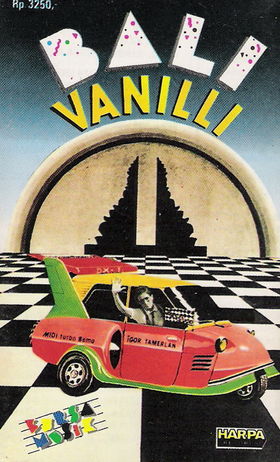 In Bali Vanilli, Igor humorously exposes misunderstanding because of language gaps between foreigners and Balinese. Part of his lyrics go "Hey mister foreigner, welcome kemari. I'm sure you would feel better, if you could standunder me." The word 'standunder' seem like a refusal to bow to foreigners.
It's almost like Igor is answering the semi-utopic song Kembalikan Baliku [return my Bali) which was released by Jopie Latul. A song by Guruh Soekarno Putra released in 1985 includes the lyrics: kembalikan Baliku padaku (return my Bali to me).
In Bali Vanilli, Igor answers: Now a day on Bali island / customs and traditions still remain / As youngsters like to be trendy / No way my Bali will ever come back [Di pulau Bali zaman sekarang ini/ Tetap bertahan adat dan tadisi/ Jika muda-mudi suka yang trendy/ Tak mungkin lagi Baliku kembali.]
Now, 20 years after Igor created the song Bali Vanilli, and Bali is being overloaded by tourism and investment, is it still possible to return Bali to the people (of Bali)?
Related Posts: