The Paradigm Shift Project (PSP) is an international NGO focused on creating inspirational media which tackles social and environmental issues. The media they create is provided free of charge to educators and grassroots organizations. To date, PSP has created films covering a wide range of topics, including sex trafficking in Cambodia, India and Thailand, water access in India and Indonesia, slums in Haiti, Brazil and Indonesia, and urban agriculture in Peru, all available on PSP's website for free streaming.
PSP's latest project is a short documentary about Bali's waste problems and grassroots solutions titled 'Greening the Island of the Gods'. The first screening will be held in Bali on Sunday, January 13, 2013 at Suly Resort in Mas, Ubud. The film screening will be followed by a Q&A session with the director Rebecca Sweetman.
Greening the Island of the Gods Film Screening
Date/time: Sunday, January 13, 2013 starts at 7pm
Location: Suly Resort, Jalan Raya Desa Mas, Ubud (directions to Suly Resort)
Notes: Free entry. RSVP on the Facebook event page.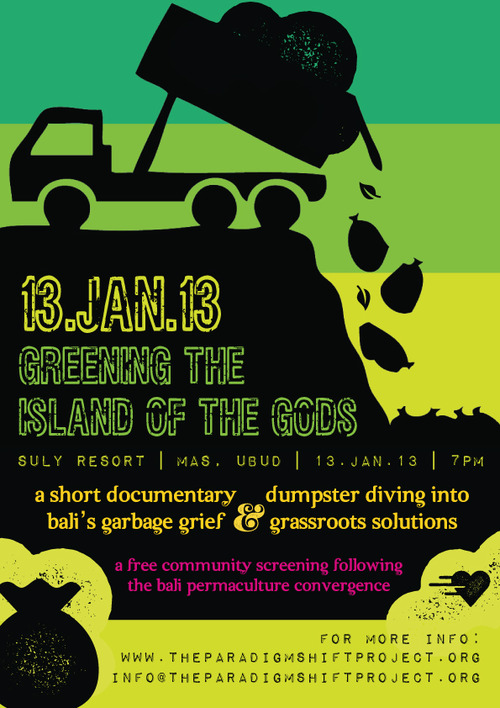 Related Posts: