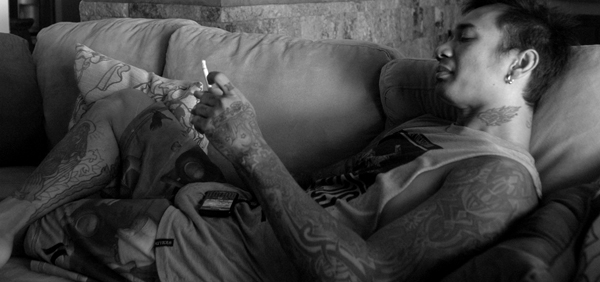 Ari Astina, better known as Jerinx (JRX), shares his concerns about Bali's natural environment, criticism of traditional rituals that have lost their environmental value, and recollections of a childhood in a once beautiful Kuta.
On August 20th 2011, @JRX_SID posted the following tweet to his 118,600 followers: "To all Balinese: What's the point in praying and believing in the concept of Tri Hita Karana* if you do nothing when you see Bali gradually being destroyed? Hypocrites?"

This isn't the first time the drummer of Superman Is Dead and vocalist of Devildice has criticized the exploitation of Bali's natural environment, which has only accelerated in recent history. Most recently, he publicly denounced the development plans for Bali International Park (BIP) in Bukit, Jimbaran. The project, which plans to cover around 200 hectares of land, will create a facility for the KTT (Konferensi Tingkat Tinggi), or the Summit of the Asia-Pacific Economic Cooperation (APEC) in 2013.
The Regional Head (Bupati) of Badung has yet to release the permit for this mega-project, which is scheduled to begin development this October. A letter of recommendation from the President has already been issued to smooth the progress of this project, and the national government, represented by the Minister of Culture and Tourism, Jero Wacik (himself a Balinese), has pressured for a speedy approval, in order to ensure that the project development continues. According to Wacik, Bali still has a lack of adequate facilities to accommodate international scale conferences. But in fact, Nusa Dua does have several massive facilities that have already been used to host international events, including the Global Summit on Climate Change in 2007.
JRX also lends his support to grassroots environmental initiatives. His own clothing line and store, Rumble Cloth and Rumble shop, spearheaded a recycling awareness campaign JRX named "Recycle Before Dishonor." In an effort to avoid adding to the complicated problem of plastic waste in elimination in Bali, the Rumble Shop, located in Ubud, does not provide plastic bags for shoppers.
Recently, I sat down with JRX in his home in Sanur for an hour-long conversation. JRX seemed relaxed, despite the fact that he was in the middle of a busy filming schedule for his role in Richard Oh's latest film, "Description Without Place." In the film, JRX plays the role of a Balinese youth and driver for Happy Salma, a businesswoman from Jakarta who wants to open a mineral water factory in Bali. "I took the role in that film because I liked the story. The story is strange. And my role isn't that far off from my personality in real life. Also there is an environmental message," says JRX.
Here, in JRX's own words is an exerpt from this exclusive intereview:
What motivated Rumble to not provide plastic packaging?
SID and Devildice have been active for a long time with efforts to reduce plastic bag use, so this program is just synchronizing our words with action. For a while we have tried to work with this type of theme, as a form of action, because the key to ecological change is starting with our own actions. If we don't start from ourselves, there's no way we could get other people to follow us.  Besides being known for our cutting-edge designs and themes, Rumble Shop in Ubud and Rumble brand want to contribute to education, even if indirectly. Rumble designs are young, so we hope our message reaches the young people. On our shop door we post a sign telling customers to bring their own bags because we don't provide plastic. Or they can buy a cloth tote bag at the store.
Most of the Rumble Shop customers are teenagers, so maybe this is a more effective way to get the message across, rather than through formal classroom education. Teenagers, they like to have fun. If you educate them in a way that is more relaxed it's easier, even though you need a little force behind it. Rumble spends more money to do this, but we do it anyway because Rumble is identifiable with SID and myself. It's street rebellion, but there is a message within it.
Why have you been talking more about ecology lately on Twitter?
There are a lot of reasons, maybe one factor is because I recently moved to Sanur. So I've been hanging out with old friends, activsts like Gendo (Wayan Gendo Suardana, an activist and Head of the regional chapter of WALHI, Wahana Lingkungan Hidup Indonesian, the Indonesian Environmental Forum). When I lived in Kuta, I didn't see him much because our lifestyles were so different. And I was also busy with both of my bands, with recording and promotion. SID is also preparing an album to be released this year. I'm only human, there's only so much I can focus on. When I'm focused on one thing, that's all I work on. Unless there is a new motivation.
Since I moved to Sanur I've been having discussions with some friends, almost like we're were still at university. It was Gendo who first told me about the BIP (Bali International Park) issue. That was one of the triggers. After talking for hours with Gendo I started having a refreshed realization about the fragility of Bali's situation. And that existing policies are mostly driven by economic concerns, not ecological ones. Bali is very small, in just a few years research shows we will have a water crisis, and major traffic issues, So what makes Bali different from other places? What is so special about Bali?
It's all because of these simple things. Not only because of uncontrolled overdevelopment. It's just rational. The mainstream Balinese believes in karma, nature, subservience, and regular prayer, but now we need real action to preserve their dreams to keep Bali beautiful. Theirs are just prayers for Bali to stay peaceful and safe. But there is rarely any real action. This needs to be pointed out so that the young people will get active. The young people who listen to me tend to be more cutting-edge, so they don't have as much attachment to tradition. So, this attachment to tradition can sometimes be the cause of resistance to act.
From a creative perspective, will the ecological angle be stronger in SID or Devildice's music?
Through artistic expression Devildice rarely touches on these themes. Devildice is like a project for my alter ego, where I want to feel released from all the problems of the world. It's my own world. Through SID, though, we will always have a focus on issues we think are important or crucial to discuss. Ecology will be one theme on our new album. We've made that the base structure for the lyrics, what we want to target and attack. From talking with activists, we have stronger references now.
By encouraging a youth movement, will this also raise awareness?
I think so, if it is presented in a sustainable way and it has a clear target. Young people need examples. The negative effects of inaction already exist. Bali is not the same anymore. If we don't do something now we will be too late. Whether or not they receive this and use these ideas in their daily lives… well, maybe it won't be that instant. Maybe they need to feel the impacts first. For example if they have a lack of water in their homes or if the water suddenly turns green or blue, then they will become aware. If they haven't been affected it's difficult.
For SID, a band that made a name through cultural change such as this, it has become our responsibility to sing about it, to do something about it.
Seeing the ecological degradation on Bali, what was a particularly enlightening moment for you?
There were so many. Serangan Beach for example. We have performed concerts there a few times or held photoshoots. And this area is one example of the government's failure, and the traditional community's failure, to protect their environment. The impacts of Serangan are not only felt there. When the beach was reclaimed and reshaped by erosion, people acted like it was God who did it, but the impacts have effects all the way to Ketewel beach. My friends who live there often say that since Serangan beach was reclaimed, the coastal abrasion has gotten worse where they live. And the local people there have lost their sources of income. Dreamland, too. We go there a lot, and see the digging into the limestone walls, and all for what? So that  people who already have a lot of money can make more money. What the fuck, man?
Regarding what is missing in Bali, what can you not find here now?
The Balinese already have enough, they just need to maintain it. If we look at the essence of all these problems, the cause really is the greed of  people who come to this island and never seem to have enough. They are so smart they have even "bought" the heads of districts and traditional leaders. And so far, the Balinese have done very little to resist this. In Bali we only take to the streets for issues impacting our spirituality or religion. Then we are tight. But for these issues, we tend to be very soft.
Me, Bobby and Eka [JRX's bandmates in SID] often talk about these issues, and SID isn't just a group of kids anymore. There are things that we have to fight for. A band has to have a purpose. And our purpose isn't just fame or money. There is something we can do for these types of issues. Bali is our home too, what else can we do. If Bali is destroyed, where will we go? Jogja?
But with regards to SID's achievements, you have been successful, both in your material gains and fame haven't you?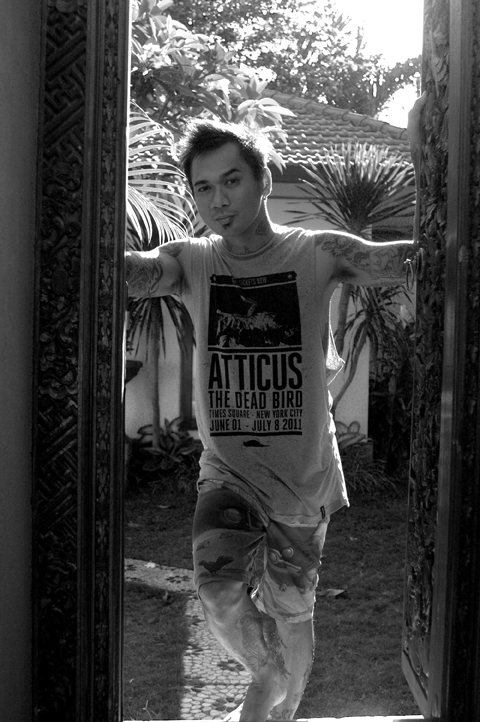 You think so? (JRX laughs).
It's very basic: As Balinese we have succeeded in doing something in a musical context. We have also tried to open the doors for other Balinese bands to be better-known on a national scale.
Success for us now doesn't mean to be famous everywhere, but to see if we can successfully protect our home. We will always feel like a minority in Indonesia, even though Indonesia is Bhinneka Tunggal Ika (the nation's motto, meaning Unity in Diversity). From an economic standpoint Bali is under attack. Culturally Bali is under attack. From every angle. And we are not of one mind. We have this slogan Ajeg Bali (meaning pride for traditional Bali), but it's only on the surface. What is Ajeg Bali? Should we wear udeng (a traditional Balinese man's head cover)? Should we go to the village meetings? That's not the real traditional Bali. That only serves a social function, so that when you die people will come to your funeral. What it is is fear. It's not thinking about other problems. We feel too comfortable in that zone.
But don't the traditional rituals put a lot of focus on ecology?
I believe the rituals are symbolic. Our ancestors performed these rituals as a sign of respect for the planet. Now, when Bali is being attacked ecologically and economically, are these symbols still relevant? Aren't actions more relevant than symbols? I posted a Tweet once: why should we pray often and believe in Tri Hita Karana when we stand by and watch our land ruined, our ecology destroyed, and our economy dominated by foreigners? Meanwhile our leaders, for example Mangku (Mangku Pastika, the Governer of Bali) owns land all over the place, controls the economy, and the people are weak and suppressed. It's crazy.
Your statements could offend some people in the government? Are you ready to debate this with them?
I'm ready. As long as the debate concerns the betterment of Bali in the long term. My ambitions aren't to become a governor or someone with power. I'm just an Indonesian, a Balinese, who is restless. Lots of things make me feel restless. The way foreigners treat Balinese, the way they disrespect them. Why do foreigners, especially the ones in Kuta, think we are stupid? Yet culture can so easily be bought. We have a slave mentality, and we are used to living like slaves. Balinese are friendly with foreigners, but with other Balinese it's different. But then again, Balinese are rude to Javanese. Is that not mental slavery?
Lots of things make me restless. Before our tourism was all about smiles and friendly people, but now the friendliness is fake. It's just made up so we can last. Of course we would last if we knew how to survive. But for now we need to be submissive to succeed.
Can you tell me a little about your childhood and what Kuta's environment was like then?
The most memorable time for me was during elementary school in Kuta. In those days Kuta was so beautiful. The smaller streets were still made of sand. There were traditional warung (roadside food stands) everywhere. And Balinese salak (snakeskin fruit) and coconut trees grew all around. There weren't too many hotels. One of the most meaningful memories was that the attitude of foreigners who came was so friendly. And their friendship with Balinese was really genuine. They would write letters to each other. The natural environment wasn't compromised by all of this. Homestays were built simply out of wood. There weren't too many cars.
Kuta now shouldn't allow any cars, or maybe only allow bicycles in. All the cars headed to Kuta should be parked at Sentral Parkir. Wasn't that what Sentral Parkir was built for? I thought that was the goal. There was a car-free day happening for a while, and the people who resisted it most were the locals. What the fuck? They should be thinking about the bigger picture. People can keep healthy by walking or biking.
As a child, what did you like most about Kuta?
All along the road I could have fun. I could ride by bike. The roads were like my playground, and there were lots of hidden tracks. Lots of trees. I would buy es daluman(a sweet drink made from chlorophyll leaves and palm sugar) and rujak (a sweet and spicy fruit salad) at the traditional warung. I'd meet older foreigners who were kind. The characteristics of the foreigners in Kuta then are more like the ones you see in Sanur now. Now, in Kuta, we get the trashy foreigners, who just think everything can be bought. Before it was so beautiful. When I was little, I had sort of extra-parent figures—foreigners who would come every year. They were like family. There are no foreigners like that in Kuta anymore. Now they come here and start a business and make money.
This is kind of off the environment topic. But local people should know that in terms of human resources, we are dominated by the economic situation. People from outside of Indonesia come to Bali and start a business which can be more successful than Indonesians because their quality of human resources is different. I think the government should be aware of this, and put limits to it, to make sure we don't become slaves in our own country. It's strange right?
I saw some graffiti in Legian which read: "Behave stranger, this ain't your home." I worry this could lead to xenophobia...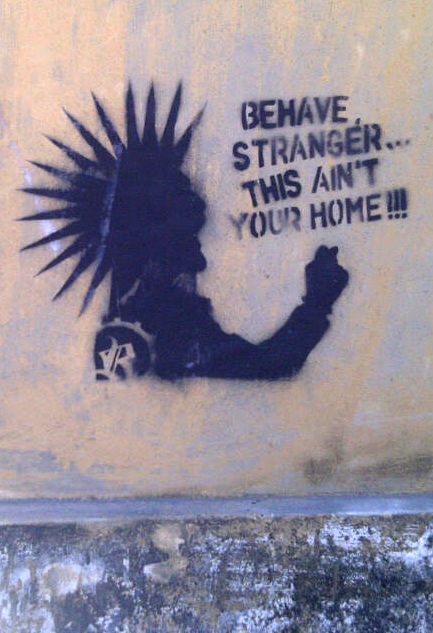 The tendency to move in that direction is there. This is because of two factors: 1) Local people don't educate themselves. 2) People from outside of Bali see the locals as something easily bought. This negative cycle could eventually turn us into enemies.
I once sent a letter to Jero Wacik, I don't know if he read it or not. I sent him an email and a written letter about this. I don't think important people in the government ever take to the streets, they don't know how traffic-jammed Kuta is every night, how many street kids are begging, that there are pickpockets and muggings. They don't know that at six in the morning, kids leaving for elementry school see drunk tourists vomitting on the side of the road and swerving around on their motorbikes.
The psychological impacts on kids should be considered. It isn't good for the local people. They wont be able to grow up naturally. From an early age they are conditioned to become shallow people and complacent, thinking, "Life is like this." This is dangerous for kids in Bali. That's why young people in Kuta are rarely critical or apathetic, they think this is normal. It's not normal, man. They're on holiday! Meanwhile we should be living a normal life.
Since you've been living outside of Kuta, do you feel Denpasar or Sanur are better?
I moved here for some physical therapy. For a year I've been a stranger to alcohol and other vices. I'm still in Kuta a lot, but now I'm used to being in Kuta and not drinking. Life here feels more organized. For example, Sanur is also a tourist spot, but it is cleaner and better controlled. Why isn't Kuta? I think it's because of the local people. If local people were smart, they would know how to maintain it. People would follow the rules. It's like when your on a clean field or park, you feel embarassed to throw your cigarette butts on the ground. Kuta is seen as a dirty field, people don't see anything wrong with throwing trash all around.
The people of Kuta put of very little resistance to all of this. And even though I've been there since I was little, I've never been a part of the community there or a part of the banjar (village organization). So it's difficult to influence local decisions.
Why don't you try to become a part of it and speak with the local people?
It's not possible to do that. It's like there is a barrier in the traditional community, except for the people who are originally from Kuta. And you have to socialize. I prefer the essence rather than empty words. I think the people that we have to talk to and who have to listen are important decision-makers. Like we can discuss how car-free day failed because of local people. They didn't even give it a chance to succeed. Even a government program like that failed. So what will happen if I talk about things that a lot of people don't agree with?
That's why now I put my hope in SID. We can slowly give a voice to this. My generation doesn't really listen to our music. Now its middle school and high school kids who form the Kuta Outsiders (SID's fan club). Hopefully they can influence the decisions their villages make. That is the most realistic way to change the conditions in Kuta.
What hopes do you have when you see your fans?
Many. A simple example: We have been doing lots of beach cleaning events. As a result, lots of Outsiders from Canggu, Sanur and Nusa Dua have made similar events. We can actually change the mindset of a thousand people at once. Maybe out of that thousand people, 3 or 5 people will actually do it with their hearts and keep that passion alive. These few people are the ones who will create lasting change. Our country hasn't been independent for that long. It takes time.
But it's actually SID's Java fanbase who are really active and more critical. They take to the streets more often. The character of Javanese is that they have more fight in them. Here we are more laid back. Geographically that's the situation. But in Sanur people are laid back, and also firm. While Kuta is laid back and under slavery.
I hope there will be a leader in Bali who cares about the environment, for the image of Bali. Bali isn't just Kuta, but Kuta is the gateway. To get to Bali people, go through Kuta. The traffic is really bad. Foreigners get off the plane at the airport and have to go through Bypass Ngurah Rai, which at certain times of day is traffic hell. There is a plan to build a flyover. But that is too much ambition, when the foundation is still fragile. The ambition is really motivated by money, not out of a caring for the protection of the local people.
There have been small imporvements, like the Trans Sarbagita (public transport busses) which have started operation. Even if Sarbagita has met with some resistance because people say it takes up too much of the road and causes more traffic problems…
Ideally Sarbagita is a public transport system like the busway in Jakarta. But the conditions of the road have to adapt to it. But the problem is on a macro-scale: Bali isn't designed for what is happening now. For example, we have to decide, will Denpasar and Badung become a metropolitan city or stay as villages? Now there is debate about this village or city decision. This difference in opinion is becoming a problem. If from the beginning the choice was to be metropolitan, they should have built wider roads.
The late Ida Bagus Mantra had clear ideas about Bali: To keep Bali like one big village that is prestigious, has character, and is very "Bali." But now all everyone wants to do is sell, sell, sell. Bali is like global sugar; the ants eating away at it aren't just from Indonesia. What we are up against is huge. Meanwhile, the Balinese are busy fighting amongst themselves.
I worry that the Balinese will become marginalized, like what happened to the Batawi people in Jakarta. Here people are selling all their land. They sell their land and open a car rental company…
(Laughs). That's true, I also worry about that. I read something about a farmer in Jimbaran who was very wealthy. He sold his land, and eventually became poor, and now he is back to become a hired hand to farm the land. This usually happens because the children want things. The pride of villages is still like that. "Wow, he has a new motorbike or a new car." They are proud of that. Or, they are proud to treat their friends at a café. A lack of education plays a factor too. They are not used to thinking long-term.
In my own family lots of people are like that. They just sell off their land, when they could have leased it. Why do they sell? Maybe because they are similar to the Betawi in that way.  They are blinded by a desire to improve their social status, so they look better off to their neighbors. It's so important to them.
Now it's difficult for locals to buy land. It's too expensive. The prices are international-rate. If things continue like this, we will stand in one place, while other people control everything around us. We will become smaller and more boxed in, and in the end just end up working as staff at a hotel.
---
* Tri Hita Karana is a tripartite principle in Balinese Hindu religious belief, meant to guide human beings' relationships to God, nature, and each other.
Related Posts: