Sri walked slowly. She gave birth to a baby boy just two days ago at the Bumi Sehat (Healthy Mother Earth) Clinic. The face of this young mother still looked tired, but today she was going home.
We sat with Robin Lim, who apologized as she took her leave for a moment. She greeted Sri with a warm hug and kissed her cheeks, left and right. Then she kissed the baby, who was still red. "Oh my cucu," Robin said.
Robin looked deeply into Sri's eyes and, as I approached, I saw there were tears in Robin's eyes.
Again, Robin hugged Sri, and again, kissed her. "If your milk doesn't come in smoothly, call us, ok," Robin said. "How are you getting home? Is there a car to take you?" "Yes Ibu," answered Jaya Sandi, Sri's husband, who then guided his wife out of the clinic.
Robin returned after saying goodbye to the new parents. Sighing, she explained, "Giving birth is a huge risk for a woman. It's painful. They risk their lives. I think of every woman who gives birth here as my daughter. Even a little love means so much to them. And it can help reduce the pain."
I was visiting the Bumi Sehat Foundation Clinic as a facilitator for a writing workshop for midwives and health workers, which was organized by Balicitta Indonesia. The workshop took place in Kerobokan, Bali, May 23-27, 2011. Five participants joined: two from East Kutai, two from Bireun, Aceh, and one from MCHIP (Maternal and Child Health Integrated Program) of USAid, Jakarta.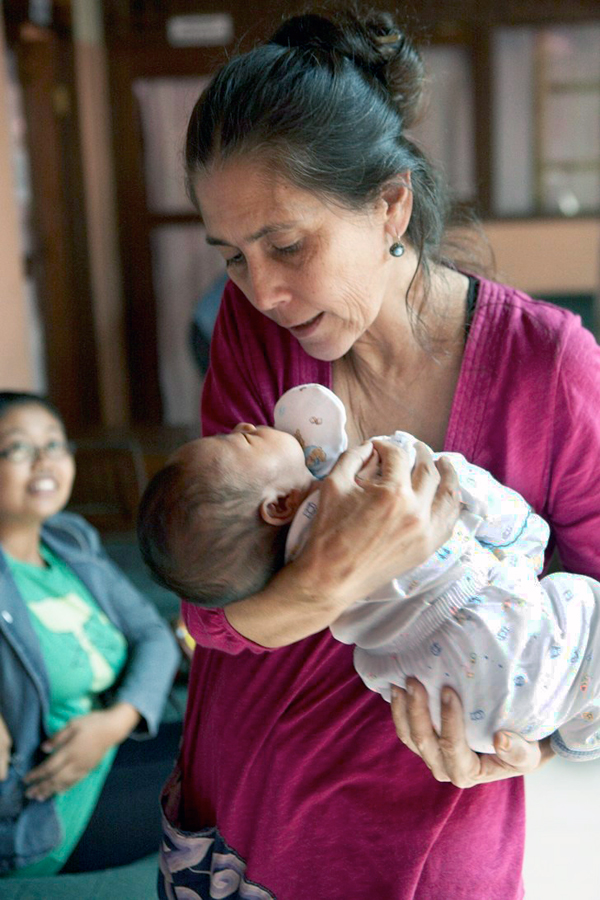 Robin's hair is long; even braided it comes down to her waist. Her hair and features suggest the Native American heritage acquired from her father's family. From her father, she also inherited German blood, and from her mother: Filipino and Chinese. An intriguing array of beads and a carved wooden owl adorned the long necklaces she wore. She explained that the owl plays an important role in her life path. One day in the early 1990s, two baby owls fell from the top of a coconut tree, not far from where Ibu Robin was standing. She took care of the orphaned baby owls until they were grown. The villagers took this as a sign that Robin could care for them. Of course the villagers already believed Robin was special, because she gave birth to her fifth child, Hanoman, at home, without any medical assistance.
I whispered to Arisandi Wahyuni, one of the midwives from East Kutai: "Ibu Yuni, how many children do you have?" "Two," she replied. "And where were they born?" "The first was with a midwife, the second in the hospital." Yuni gave an regretful smile and continued, "Even we midwives often opt to give birth with a doctor. We don't trust our own colleagues."
I observed Robin and the lines around her eyes, which became more pronounced when she was deep in conversation. Robin doesn't laugh much. When she is sharing a funny story, her lips allow only a thin smile.
After her younger sister died in childbirth and her own midwife also passed away in the same year, Robin dedicated her life to helping others. Her belief in this work was reinforced when her own grandmother, Vicenta Munar Lim, appeared to her in a dream, not long after Robin gave birth to her son, Hanoman.
Vicenta was a traditional midwife in the mountain city of Baguio, Luzon in the Philippines. During and after World War II, Vicenta helped women during childbirth.
In the dream, her grandmother gave Robin a gift, Robin explained: "She gave me a Chinese baby in a beautiful yellow dress. I interpreted it as her asking me to take on her gift. It was like my grandmother was passing on her knowledge to me. Now, every time I'm in a difficult situation with a patient, I always seem to find the solution," said Robin.
When her grandmother appeared in her dream a second time, Robin chose to study midwifery. Robin, who was born in Arizona on November 24th, 1956, returned to her birth land and became certified by the North American Registry of Midwives. She also holds a certification from the Indonesian Midwives Association.
Robin has eight children—five of which are her biological children. Her first child is 35 years old. Not long, ago she adopted her youngest child from East Nusa Tenggara. "You have five children, why don't you practice Family Planning?" asked Mia Pesik, the senior program manager for MCHIP, during the writing workship. "All five of my children were 'planned,'" replied Robin, smiling.
I had to stifle my laughter upon hearing her retort. Family Planning in Indonesia is quite different from programs in the United States: It was initiated by Suharto's New Order regime to reduce population growth. But what Robin means by family planning, is that each child was planned by his or her parents, or by a higher power.
Bumi Sehat has around 55 employees in Bali and 19 in Aceh. They have very few regular volunteers and the foundation prioritizes working with local midwives. Robin, who is always on call, explains, "Birth doesn't have a schedule; sometimes it happens at 3 in the morning. I try to be there for the mothers who call me. Even if I don't necessarily deliver the baby, I want to be close to the mother, hold her hand, or wipe her forehead—and to let them know that they will get through this difficult, but rewarding time," said Robin.
Bumi Sehat doesn't charge for its services. All healthcare is provided for free, even medicine. Of course, donations from patients are always welcome. "So where does the operational funding come from?" I ask Robin.  "We are constantly requesting donations of money from overseas."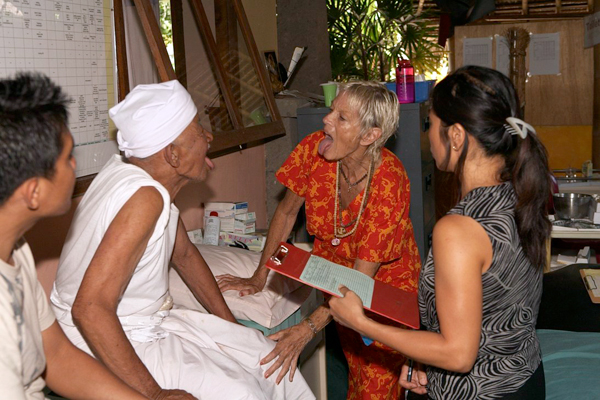 Bumi Sehat offers healthcare services for many more than those in their local community: Some patients come from overseas to give birth at the Bumi Sehat clinic. Robin provides an example: "My friend from New York came here to give birth. She said in New York where she works as a doctor, she would not even bring her dog to give birth in a hospital."
Recently, as Robin's reputation has become more widely known, more foreign visitors and expatriates have come to give birth at this simple clinic. "They give donations, sometimes more than they would pay to give birth in their own country. Many Russians come all the way here because they don't want to give birth in their own country."
In Russia, according to some of Bumi Sehat's patients, newborn babies are directly moved to an infant room and denied direct contact with their mothers for up to five days. Robin suspects a dubious business deal between hospitals and infant formula producers is behind this unnecessary and unnatural practice: "Who would be behind such practices if it isn't the formula producers? They separate the mothers and newborns so that the newborns will be given formula and won't accept breast milk" says Robin.
In fact, infant formula producers have a strong hold over the world of natal healthcare. But recently, some community-based movements, such as AIMI (Asosiasi Ibu Menyusui Indonesia), the Indonesian Breastfeeding Mothers Association, are balancing out the influence of these companies. Robin is an active supporter of early breastfeeding. She always lets new mothers know that they should exclusively feed their babies breast milk until they are 6 months old.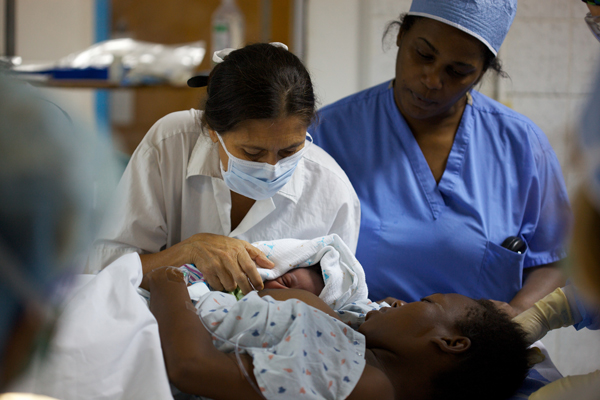 At Bumi Sehat, there is no chance of ever introducing infant formula milk. Yet formula companies continue to try and offer their products there. Once, when Robin was not at the clinic, a midwife called her on the phone. "There was someone from Nestle there offering a motorbike for the midwives," said Robin, relaying the story. "I told the midwife to ask them to leave. We don't need their motorbike. Today they will give us a free motorbike, but tomorrow they will come back and coerce us into giving formula milk to the babies."
Even with donations, Robin is selective. She has refused donations from mining companies. "These companies are destroying the forest and stealing rights from the people. We don't need their money," Robin said, naming several particular multinational gold mining companies based in Papua as such culprits.
Because of her unwavering ideals, Robin often struggles to find enough funding to cover operational costs. "But our clinic in Ubud is staying afloat. And we send many of the donations we receive to our Aceh clinic," she explains.
The Aceh clinic was founded by Bumi Sehat near Meulaboh, just after the tsunami in 2005. "Today, most foreign NGOs have left Aceh, but we still keep our clinic open there," she says.
Bumi Sehat has an ambulance, of sorts, though it wasn't originally designed to be an ambulance: It is a converted mini van, a donation of the Ubud Rotary Club. "We tried for four years to get an ambulance. Finally they donated one for the clinic." Quoting the Bible, she says, "It is easier for a camel to pass through the eye of a needle than for a rich man to enter heaven," with unveiled frustration in her voice.
Robin explains that the ambulance is not only used to transport birthing patients. Bumi Sehat often gets calls from people who have been in motorcycle accidents. "What if there is no one there to help them? We can't just leave them on the side of the road."
There are three additional ambulances in in the Ubud area, all of which belong to two organizations who work with to save street dogs. "They quickly raised the funds to buy these ambulances. It seems that people care more about dogs' lives the peoples' lives."
---
The health of mothers, infants, and children on Bali is, by comparison to other parts of Indonesia, very good. Bali has the third lowest mortality rate for mothers in the country, which is above the Health Ministries national target. In 2010, Bali registered 107 deaths of mothers during birth. Bali trails Jakarta, which reported 64, and Bengkulu at 104. In 2010, the number of mothers who died in childbirth in Indonesia was 11,534. West Java experienced the most deaths at 2280, followed by East Java (1766) and East Nusa Tenggara (642).
Many new government programs have been introduced to try to reduce the mortality rate of mothers, infants, and children. The writing workshop organized by Bali Citta Indonesia is aiming at collecting stories from midwives and healthcare workers in the field as part of such a campaign. Unfortunately, their research and contribution is rarely acknowledged by the press or government.
Learning from the stories of other midwives and healthcare workers can build awareness of the problem and strategies for reducing mother and infant mortality rates. In addition to finding sources of inspiration for the writing workshop, we also found personal inspiration by visiting Robin and Bumi Sehat.
Robin decided to open her non-profit clinic because she was disturbed by the high rate of mother and infant mortality in Indonesia. At that time she was convinced that one of the factors leading to deaths was the expensive cost of giving birth in a hospital. So in 1994, she opened her clinic with limited facilities. Bumi Sehat Foundation, located in Nyuh Kuning, Ubud, was officially established in 2006. Now, every month, the clinic welcomes around 40-60 births.
"I really want to expand our work to other areas," Robin said. "If possible I would like to have one foot here and one in the Philippines. There, the mother mortality rates are still high. But, with the limited funding right now, this is all we can do."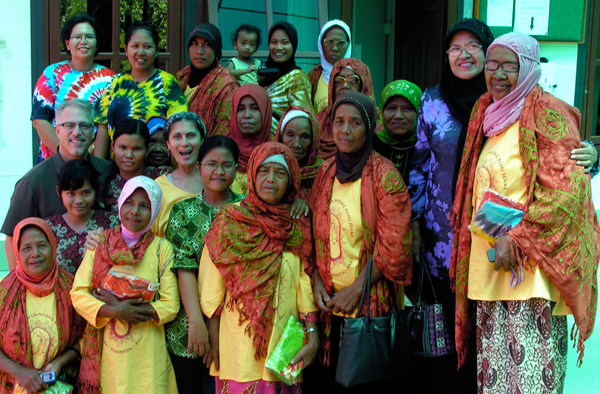 One way to reduce the number of mother and infant mortality rates is to support the role of traditional birth attendants who, in many communities in Indonesia, are the primary caregivers during and after childbirth. Unfortunately, they often work without the hygienic equipment necessary, according to safe medical standards. But in Meulaboh, Bumi Sehat has partnered with 13 traditional birth attendants to offer them education on safer practices.
In Meulaboh, the birth attendants don't stay at the clinic, but continue to work in their home villages. They are supported through an information and supplies network established by Bumi Sehat. "We don't want to tell people to not go to the traditional birth attendants; we need to work together with them. They also have very good techniques to save the lives of mothers in childbirth. They learn from nature."
In Aceh, Bumi Sehat provided the traditional birth attendants with medical equipment in the form of delivery kits. Included in each kit is a mobile phone, so that if a patient needs additional care, a birth attendant can call a midwife from the Bumi Sehat clinic. "But we do not provide them with scissors to cut the umbilical cord," Robin explains. For sanitary reasons, "they need to wait for a midwife to do that."
Bumi Sehat also pays the traditional birth attendants each time they assist a birth. In the village, the traditional birth attendants often stay with the mother through the complete birthing process. This complete attention is what makes many people still trust in the services of traditional birthing attendants.
"They often provide anything the mother needs during the birthing process, including washing cloths and boiling water." This is a service that also supports the birthing attendants financially. "At our clinic, we wash the cloths used after a birth. Sometimes the traditional birthing attendants will say, 'Don't, that is my job.' Maybe they worry that they will lose their source of income because of new clinics and midwives; but they don't have to worry because we respect the importance of their role in childbirth" said Robin.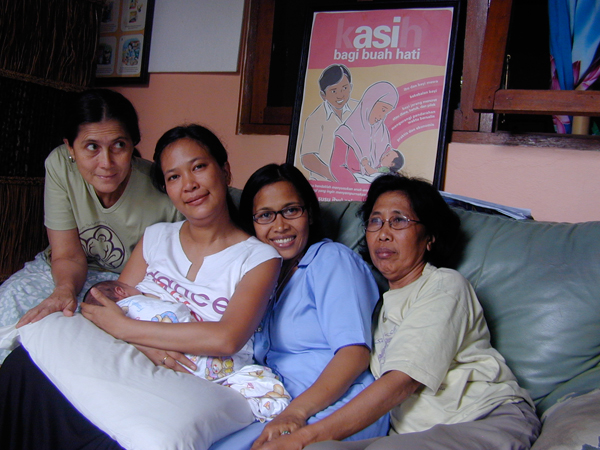 We were invited to see the birthing room while at Bumi Sehat. In the room there was a bathtub shaped in a quarter circle, used for water births. Sitting submerged in warm sterile water helps to reduce the stress and pain of the mother while birthing. Robin chose a water birth for delivering her fourth child in Hawaii. The Indonesian singer Oppie Andaresta also gave birth to her first child in the water at Bumi Sehat.
There was also a birthing bed in the room. One of the midwife participants asked why the birthing bed was so low, like a regular bed, and not tall like the standard, modern medical beds. Ergonomically, these low beds are not comfortable for midwives, because they have to bend down. But Robin explains, "We [humans] are mammals, so we instinctually want to give birth close to the earth. So, the comfort of the midwife is not the priority, but what is most important is the mother."
Bumi Sehat's health services are based on three foundations: respect for nature, respect for culture, and the wise implementation of the science of medicine. Robin avoids using chemical medicine as much as possible; almost all of the medicine at Bumi Sehat is derived from food sources or made from natural ingredients. For mothers with an at-risk pregnancy because of high blood pressure, for example, Robin takes advantage of the healing properties found in garlic and cucumber to lower their pressure. "If a mother's milk hasn't come in or isn't flowing well, we give her red rice. This method has been proven for hundreds of years," she said.
Bumi Sehat doesn't require much technology to operate. This is in keeping with their mission of gentle, simple birthing. The birth process is handled naturally through observing aspects of the human body in a holistic way. Robin believes that the birth process is sacred and must be handled with love. "We have an ultra sound machine. But that's all. Why should we spend money on unproductive technology? As advanced as any technology is, if the process is not handled with gentle care and love, the mother will not feel comfortable," said Robin.
Near the birthing beds there is a bamboo ladder tied to the window. Some cloth bundled into a knot at one end hangs from one of the ladder steps. The ladder and cloth are also part of the birthing facilities, devised from a method used by traditional birthing attendants in Kalimantan. A woman in labor can hold onto the knotted cloth with both hands, and bend her knees allowing the cloth to bear her weight as she hangs. The birth takes place in a half-standing half-squatting position, helping the mother to push during birth.
Robin held the blue cloth attached to the ladder, a bit dingy, in her hands. "We will wash this cloth or replace it. But we feel that this cloth is sort of charmed. So many mothers have given birth while holding this cloth. There are many success stories here," Robin said, laughing.
Bumi Sehat also practices a method called lotus birth, in which the umbilical chord is not immediately cut. This traditional method assures that the placenta provides nutrition, cells, and antibodies to the baby following the birth. After the birth, the placenta is wrapped in flowers and scented herbs and placed carefully near the mother's body.
Some families who choose a lotus birth leave the baby attached to the placenta for a few days, until the umbilical chord has dried and falls off naturally. In her book Placenta: The Forgotten Chakra, Robin beautifully explains this ancient birthing practice. But she recommends this birthing method cautiously; according to some local customs in Indonesia, including in Bali, the placenta must immediately be buried at the baby's parents' home. Bumi Sehat's mission is to provide a culturally appropriate birth, whenever possible.
Robin has also published other books, including After the Baby's Birth, Butterfly People, ASI Ekslusif, Dong!, (Exclusively Breastmilk!) and Anak Alami (Natural Child).
After the tour of the birthing room, Robin invited us outside. "Can you help me prepare this mat?" Robin asked of Made Suastini, a midwife at Bumi Sehat. "I've known her since she was little," said Robin gesturing at Suastini. "If she worked somewhere else, she could make a lot more money than here. But she chooses to work here, out of love." Robin believes that midwifery is a profession that makes people happy. "Happy?" I asked, perplexed. "Yes, happy. In Bali by becoming midwives we are offering our dharma," our calling.
Robin invited us to sit on the mat. She lied down with her head on a pillow, stretching out her legs. From a container with Chinese writing, Suastini removed something that looked like a candle, but was softer than wax. Suastini lit the wick until a small flame burned evenly. Then she lowered the flame close to the soles of Robin's feet. Robin explained that Bumi Sehat offers this traditional form of pain relief; it is a form of moksha, or practice for the liberation of suffering. "It is relaxing and reduces pain during labor," Robin explained. "If a mother complains that the ember is too hot, we alternate and place the moksha stick near the other foot. Suass… hoooot!" Robin exclaimed, in half-mocked pain.  Suastini grinned and transferred the moksha to Robin's other foot.
One difficulty in pregnancy that can lead to complications during birth is if the baby is positioned feet down. Robin responds to this with sujud, a prostration posture in yoga. "It's like sholat (the Muslim prayer position)," she explained, matter-of-factly. Using a prop to illustrate her point, Robin lifted a baby doll and placed the doll on her stomach with it facing away from her body. Then she covered the doll with some cloth. "This is the traditional way to bring the baby into the right position," Robin said, as she assumed the sujud position. Suastini and a friend stood to her left and right, each holding a piece of rope. They both pulled slowly. After a few pulls the doll changed position and was facing Robin's stomach. "This technique is often used by traditional birth attendants in the villages. But at midwifery school they wont teach you this."
Robin also practices an alternative technique to relieve pain during contractions, using massage. She asked one of the midwife participants to sit facing away from her. Then Robin applied pressure to the left and right sides of her back using both thumbs. "I always teach the fathers to do this," she said.
Abrubtly, Robin asked a Bumi Sehat staff member to go fetch her motorbike helmet. "Sorry, I have to go check on a patient that gave birth here yesterday. Her baby won't stop crying." A baby crying during the post partum stage is normal, but it is still the midwife's responsibility to be near the mother and baby's in case there is a problem. Although there were other midwives at the clinic who were not busy assisting a birth, Robin chose to visit her patient herself.
Robin said goodbye and hugged each of the four workshop participants, kissing their cheeks tenderly. She turned specifically to Desita, the midwife from Bireuen, and said, "Thank you for coming here. Come visit the Bumi Sehat clinic in Meulaboh when you are there. I love you."
As we walked out of the clinic office, I noticed Desita's eyes were damp. "I'm not even her patient and she kissed me so sincerely. From now on I am going to kiss all of my patients."
Take a moment to vote for Robin Lim on the CNN website. All you need is an email address or Facebook account. Your can vote from each email address or Facebook account as many as 10 times a day, so if you have more than one account, be sure to vote from your other email accounts as well. Voting ends on December 7th, 2011.
Related Posts: