This Sunday, February 26th, 2012, Waterbom Bali will be hosting "Sounds of Life" a charity concert for Bumi Sehat Foundation to support Robin Lim in achieving her vision to continue offering free healthcare services for financially challenged women in Bali and Aceh. Last December Robin Lim was honored as the CNN Hero of 2011 for her midwifery work in Indonesia and Haiti which has saved hundreds of lives and delivered thousands of babies over the last decade. After 13 years of service and frequent financial challenges, "Ibu" (Mother) Robin and her organization remain persistently committed to changing the world, one gentle birth at a time.
The concert will kick off at 7pm with opening acts by DJ David J, Soldiers of Sound, Stephanie Bovill, and Devdan. Headlining the event is USA based DJ Cut Chemist, a veteran in the international music scene – he is a founding member of legendary Hip-Hop group Jurassic 5 and former member of Latin funk band Ozomatli. The turntablist extraordinaire will bring his envelope pushing live show to Bali following the end of his Australian 'Sound of the Police' tour. ABC News (US) describes his show as, "a whirling, groovy, funkified collection of African beats, horns, melt-your-face-off bass lines and some good old hip-hop ingenuity." Here's a taste of Cut Chemist to get you funkified:
Be a part of this vision for positive change and support a great cause by attending.
Tickets are limited.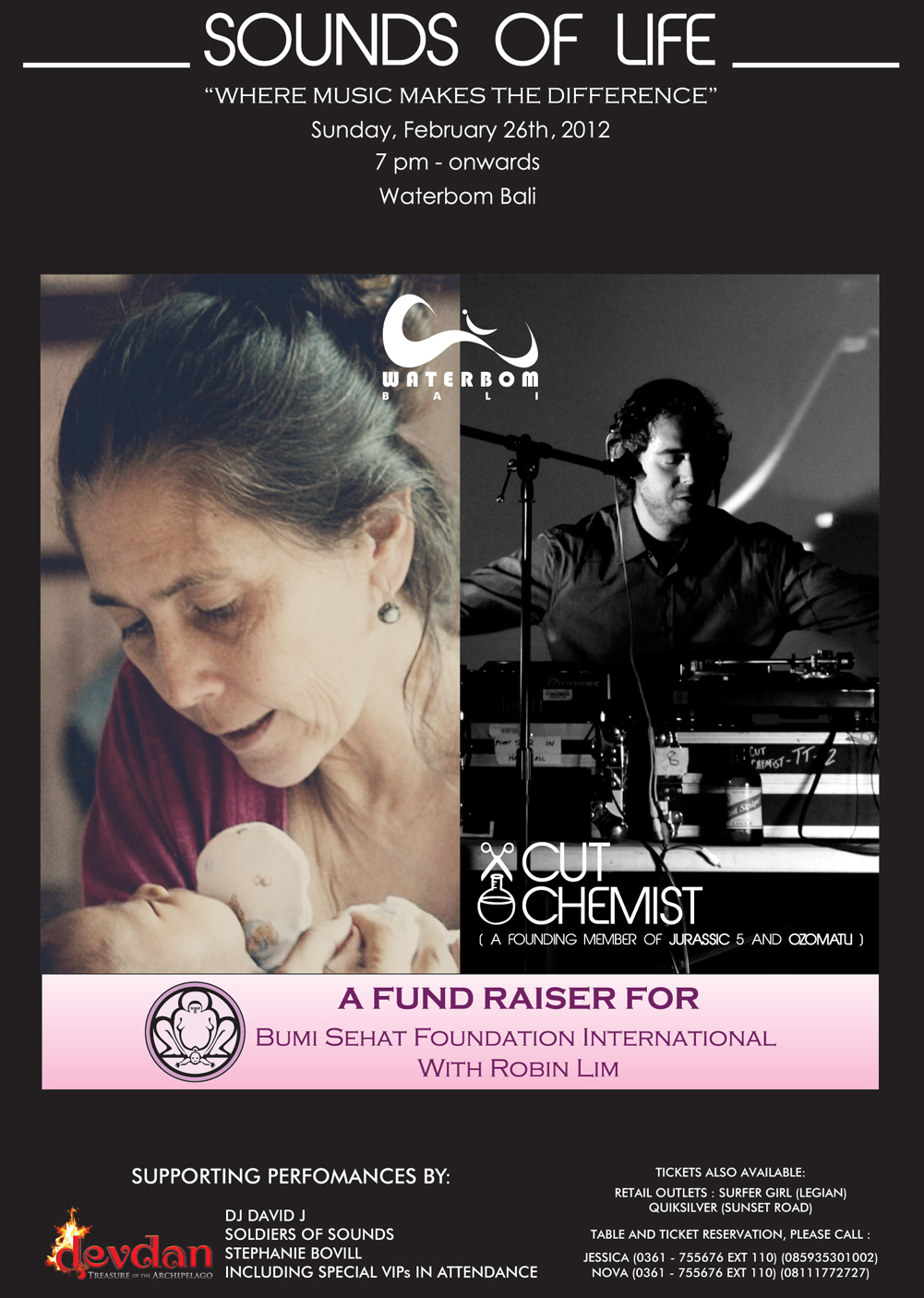 Sounds of Life | A fundraiser for Bumi Sehat Foundation
Venue: Waterbom Bali, Jl. Kartika, Kuta, Bali
Date/Time: 26 February 2012, 7pm onwards
Tickets: Rp. 250,000 per person
VIP seats: Rp. 1,000,000 per person
Corporate table:Rp. 3,500,00 for 10 seats (includes 1 bottle of Wine & Liquor)
For table and ticket reservations, please call:
Jessica: (0361) 755676 (ext 110) | 085935301002
Nova: (0361) 755676 (ext 110) | 08111772727
Pre-sale tickets are also available at retail outlets in Kuta: Surfer Girl (Jl. Legian) and Quicksilver (Sunset Road).
Related Posts: