Urban residents tend to assume you have to buy everything. If you care about eating healthy food, a large part of your income will be spent on this. Instead of only focusing on how to make more money, consider how you can save money. For example by making your own 'living fridge' by planting a vegetable garden in your yard: urban farming.
Especially if there is unused land around your house; instead of letting this become a toilet for your dogs, turn it into healthy vegetables. Instead of letting the snakes nest there, plant some snake-like vine plants. Instead of wasting time, roll up your shirtsleeves and get to work: Plant your own food! Lift your hoe, my friend!
Following are a few simple steps on how to plant a vegetable garden behind your house. When you start your garden, please share your farming stories and photos with Akarumput.com. Who knows, maybe you'll find a love-connection with someone who is on the look out for a do-it-yourself partner, who is kind, passionate, and smells a little like soil.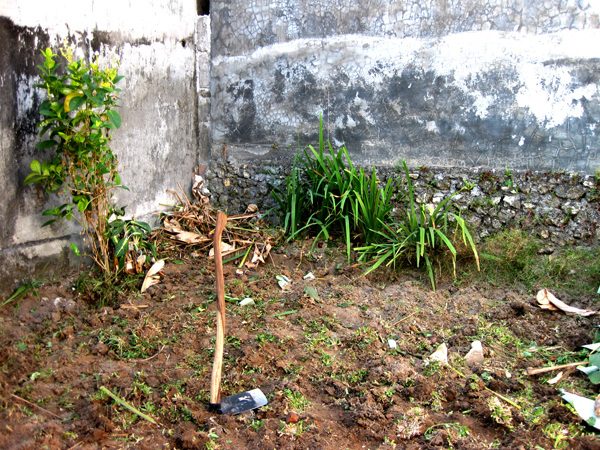 Prepare the soil. You can start with a small plot and slowly expand slowly.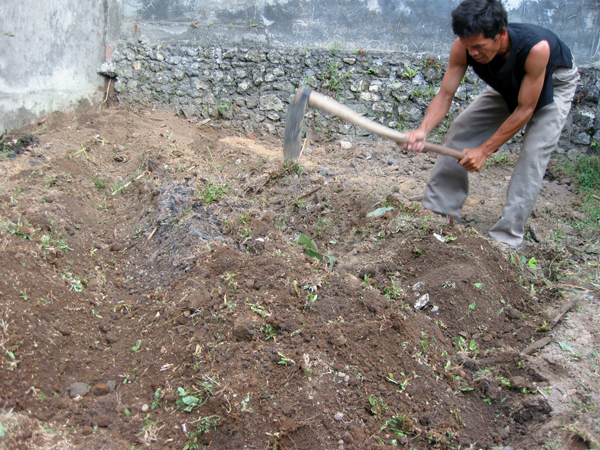 Loosen up the soil with a hoe and clear away any rocks, plastic trash, or used condoms.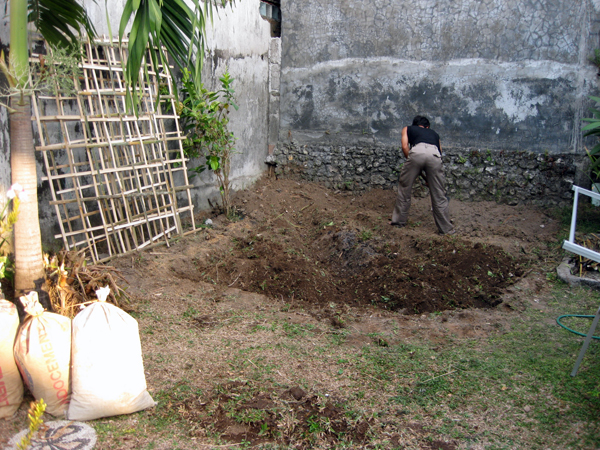 Raise the soil and shape it into garden beds. Use any shape you like, long, square, circular, star shaped, spiral. Leave some space to walk through the garden beds, because you need to avoid walking on top of the beds to make sure you do not compact the soil.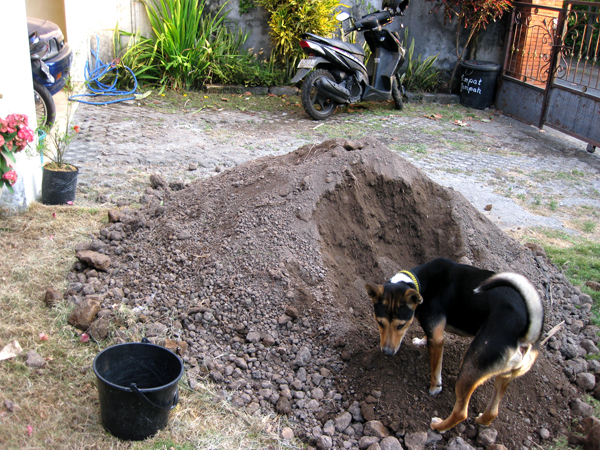 If needed, add some nutrient rich soil which has been mixed with manure. In Denpasar, this soil can be bought at plant-shops for around 250,000-300,000 rupiah for a whole pick up truck full. But it's even better if you mix your own potting soil with fertilizer, because the kind you can buy usually only contains a small amount of cow manure. Look, my dog Backer wants to donate some manure to the garden ;)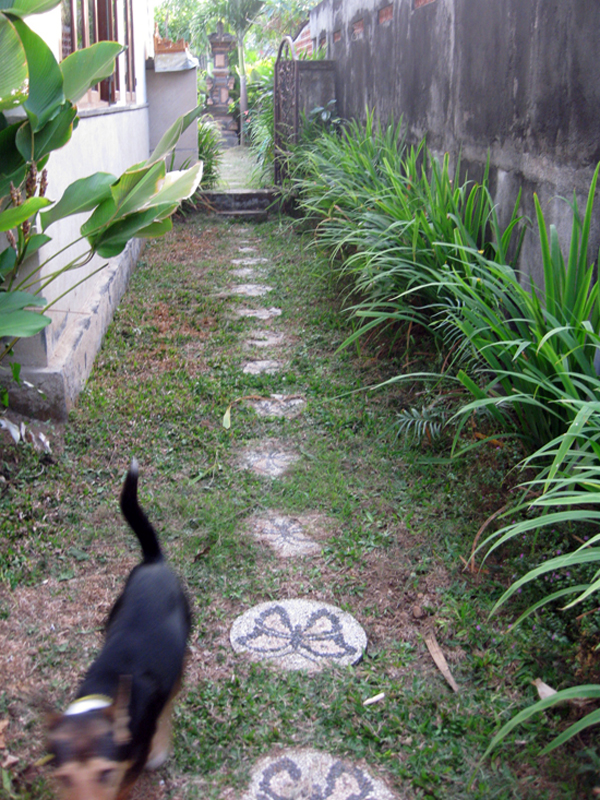 Husss!! Backer!!! Stop following me!!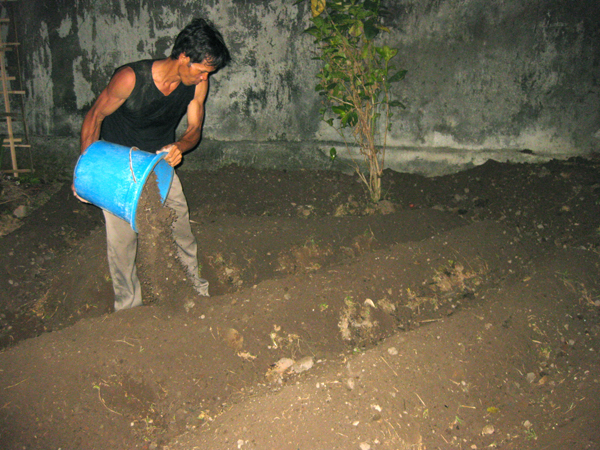 Add some fertilized soil on top of the garden beds.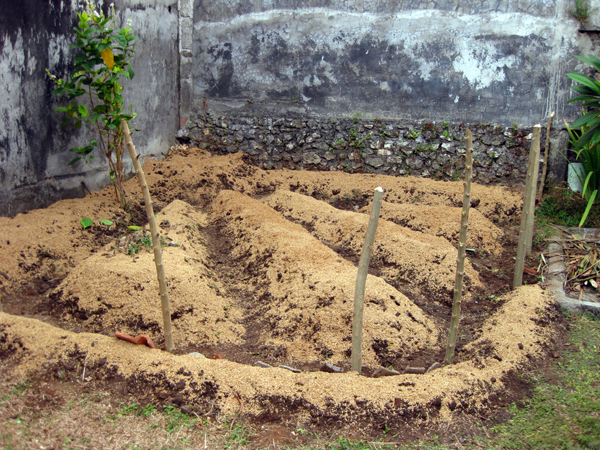 Now you can also add a layer of mulch on top of the garden beds. Mulch is made up of organic materials which will protect the soil from too much sunlight and make sure it stays damp underneath, while providing additional nutrients to the soil. Mulch could be rice husks, hay, woodchips, coffee husks, or dry leaves and grass. If you have pets at home, like Backer or chickens, make sure to add a fence around your garden. Use cheap and available materials. The fence could be made from tree cuttings. Legumes like lamtoro, kelor, kayu santan, and dapdap make great living fences. These tree cuttings will grow up to provide shade for your garden and the leaves can be used as a vegetable. Legumes are really useful for the soil, because when they are cut back, the nodules in the legume roots release nitrogen into the soil. In this photo you can see we used kelor and kayu santan as living fence, because kelor leaves are one of my favorite veggies. The garden fence can also be used as a place to grow vine plants.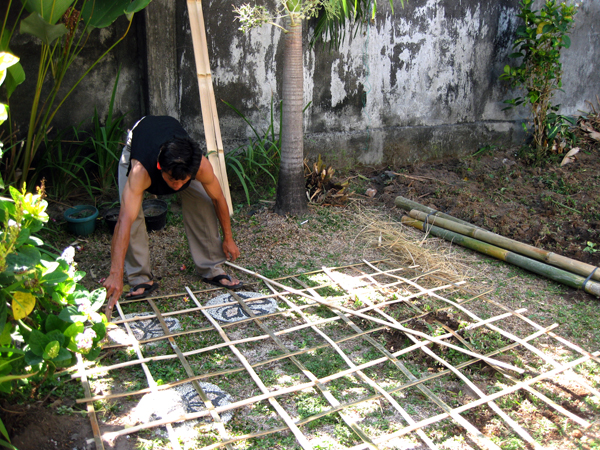 To save space, use vertical gardening techniques, like pergolas for vine plants such as pumpkin, passion fruit, and long beans. Our garden uses bamboo weaving which leans against our neighbor's wall so the pumpkin plants will grow vertical, not horizontal which takes up much more space.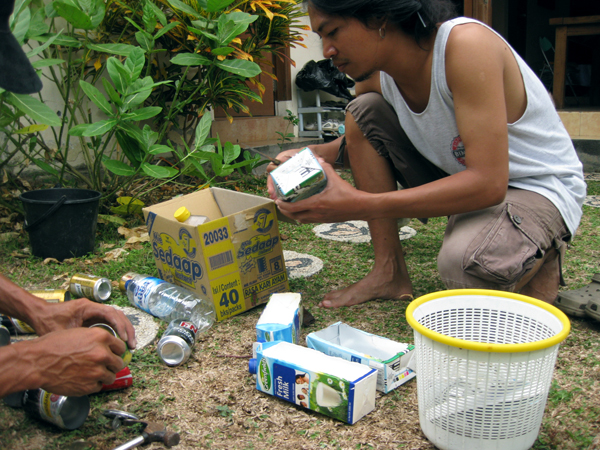 While preparing the land, pots or polybags can be used to plant seeds. Again, use materials that are easily available. You can even use left over materials or rubbish as seedling containers, such as old soda cans, sardine containers, water bottles, milk cartons, or broken buckets.
Wow, urban farming serves so many purposes. Mmm, and this article is getting way to long. So stop back soon and follow @BaliUrbanFarm on twitter for more urban farming techniques.
Related Posts: