October 26, 2011 "A Message of Love from Ibu Robin Lim"
Wednesday, 26 October 2011 at 19:00 at Danes Art Veranda, Jalan Hayam Wuruk 159, Denpasar.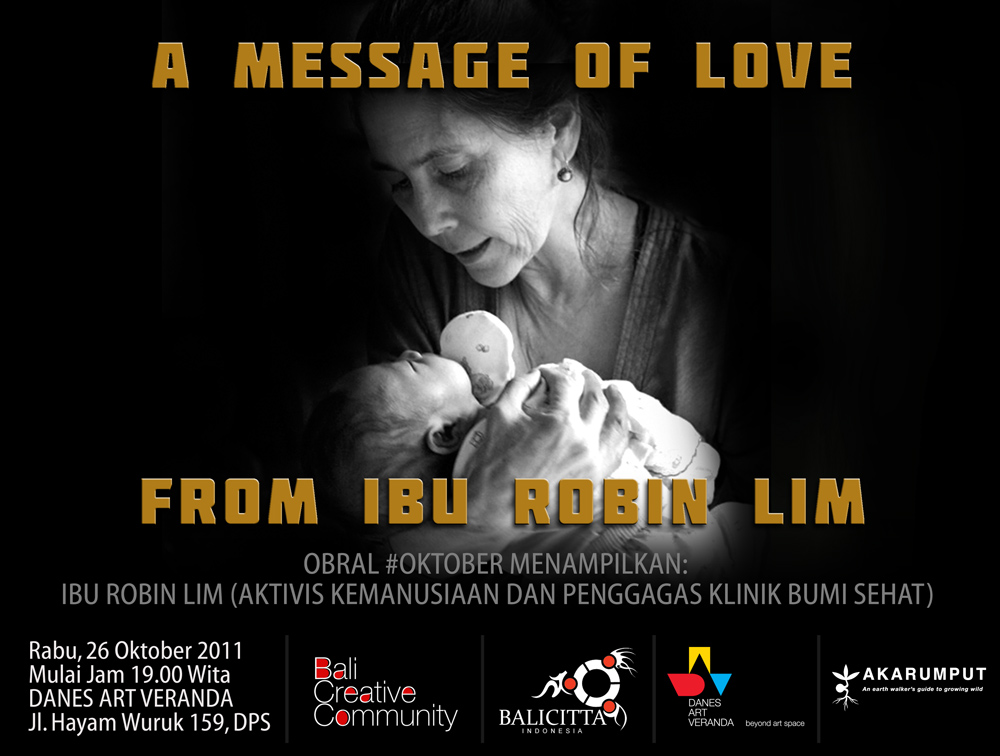 With every pregnancy and birth to bring new life into the world, we are also facing the risk of loss: the loss of a mother's life. In Indonesia, maternal and infant mortality rates are still very high for Asia standards.
Midwives are the spearhead to improve the health of mothers and infants, and to reduce the mortality rates. In rural areas, it is midwives who are first contacted by community members when the pains of labor begin or if there are complications during delivery. One of these midwives is Robin Lim. Through the Bumi Sehat Clinic in Ubud, Bali, Robin Lim has assisted in providing free health services since 2003. "In the first 8 months of 2011 alone, Bumi Sehat has offered free healthcare services to over 20,500 patients and assisted in the delivery of almost 400 babies." says Robin Lim.
Her social work has now received appreciation, Robin Lim has been nominated as a 2011 CNN Hero this past March. It takes nine months before the CNN Hero of the Year is announced, which will be this December 11th. Nine months, the same time it takes for an infant to grow in the womb.
To learn how to vote for Robin Lim, and to learn more about her work, visit:
Visit the Official CNN website to Vote for Robin Lim
akarumput.com/robinlim atau bumisehatbali.org
Facebook:Ibu Robin Lim
Twitter: @iburobin
Related Posts: