Politics and propaganda through art is a reproduced ideology.

I was blown away the first time I held the book Taring Padi: Seni Membongkar Tirani (Fangs of Rice: Art Dismantles Tyranny), just after it arrived from Jogjakarta. From first glance, the book is visually striking, designed with the bold colors red, black, and white with a cover made of cloth and pages printed on recycled paper.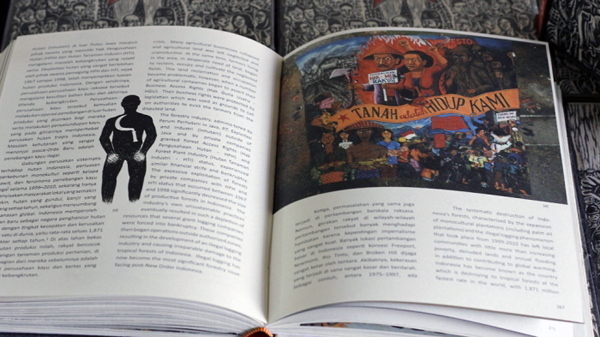 The book cover is printed using a wood cut design, the signature style of the posters and banners produced by Taring Padi, an art collective based in Jogja that has been active since the Suharto era. By using this wood cut technique, Taring Padi demonstrates they have inherited the same community-based passion for grassroots organizing as the artist collective Lembaga Kebudayaan Rakyat (Lekra) or Institute of People's Culture. Wood cut printing is an easy method of reproducing artwork, which makes it effective for achieving the propaganda goal of wide distribution.
In a twist of irony, however, the book is too expensive for the average Indonesian to purchase: Seni Membongkar Tirani is sold for over Rp. 200,000, a price that seems to undermine Taring Padi's commitments to populism, anarchy, and art for change. However, the cultural and political action of Taring Padi continues, and manages to find alternative, less expensive means to spread the ideas expressed in this book.
This book is meant to mark the 10-year anniversary of Lembaga Budaya Kerakyatan Taring Padi, however it was released 13 years after the group was formed. The extra three years were required for compiling and reproducing the collective art in this book, including posters, banners, and murals.
Seni Membongkar Tirani is more than a medium for showing appreciation for Taring Padi's community art or romanticizing their community-based movements; there are 12 articles in this book, a selection of which provide constructive critiques of the motivations and meanings behind Taring Padi's artwork. Critical analysis gives the book more depth and creates a balance between the text and the strong visual appeal of Taring Padi's art. For example, in his article, Wulan Dergantoro suggests that Taring Padi's portrayals of women seems to favor a traditional housewife stereotype, particularly in how they illustrate women wearing kebaya, the traditional lace blouse worn throughout Java and elsewhere in Indonesia for formal occasions. He charges that Taring Padi fails expand beyond the patriarchal ideologies used during the New Order to keep tyrants in power. Without being aware of it, Taring Padi has reproduced conventions popular with the old regime to which they are opposed.
Antimilitarism, also a theme Taring Padi often explores is also critiqued in the book. Taring Padi focuses specifically on the state military, but doesn't necessarily address true militarism. In fact, since the New Order's collapse and the dual function of TNI (the Indonesian Armed Forces), there have actually been more militant civilian groups, especially sub-groups of political parties and mass organizations.
Another interesting controversy raised in the book is Taring Padi's use of stereotypic slogans about horizontal conflict. Conflicts stemming from issues related to ethnic groups, religion, and race increased following the New Order collapse, which shows a failure to plant the seed of unity within the people. There are Taring Padi posters which display stale national slogans such as "Build unity in diversity" or "Together in our differences." Unity is a hollow ideal overused for generations, despite the fact that many studies show that horizontal conflict more often stems from economic inequality.
The slogan "Build this nation without a drop of blood" also bears striking resemblance to New Order ideologies. This is actually iconic of one of the Five Cultural Demons which Taring Padi fights against, as stated in their manifesto when formed on December 12th, 1998. The Five Cultural Demons are individuals or organizations which value art for art's sake, socialize misguided doctrines to maintain their status quo, legitimize of art, or attack artistic morality because they have forgotten the value of the art of the people. New Order politics have caused economic value to dominate art.
Muhidin M Dahlan, the research head of Gelaran Almanak Seni Rupa Jogja from 1999-2009 notes how the populist values of Taring Padi are compromised when the members work with commercial galleries. In December of 2008, Surya Wirawan held a solo exhibit at the Kedai Kebun Forum Jogjakarta (a sister company to the Cemeti Art House, which Taring Padi strongly criticized as being one the five cultural demons). Arya Pandjalu not only held exhibits at commercial galleries, but from November 2006 to January 2007 he joined a residential arts program called Landing Soon #1 which took place in the Netherlands and was organized by the Cemeti Art House in partner with Heden, Den Haag.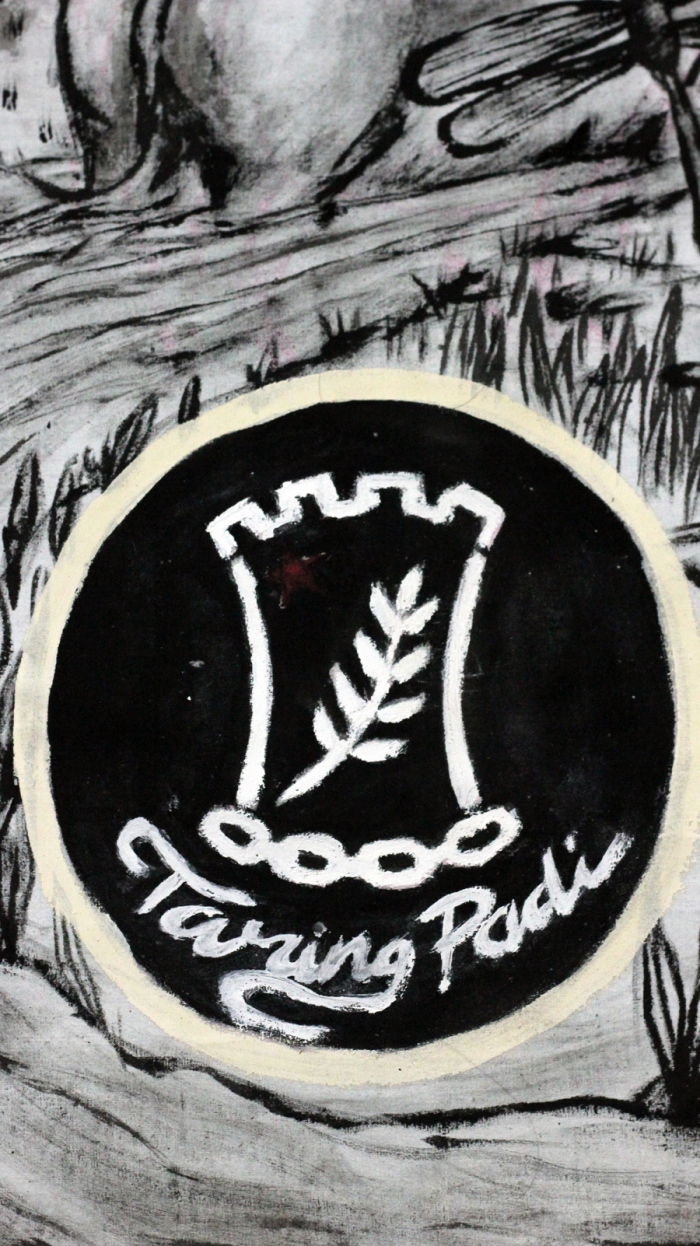 Taring Padi's first president, Yustoni Volunteero, held an exhibit of 17 art pieces at Biasa Gallery in June 2008. According to Muhidin, this Gallery in Jogjakarta has no history of financing farmer's movements against global imperialism through art, a previous theme of Taring Padi's activism.
These criticisms expose some of the biggest challenge for Taring Padi as an art collective fighting the capitalist systems and glorification of individuality on which the art industry is based. What remains to be seen is if Taring Padi can use the income from gallery exhibits to fund their collective movements. But perhaps they would benefit from regarding art as a commodity and creating works of art on gallery walls or collectors homes—especially since "leftist art" is more than ever sexy and sellable.
---
Taring Padi, Akarumput.com and Taman 65 are working together to hold the launching event and discussion for the book "Taring Padi, Seni Membongkar Tirani." In addition there will be wood cut workshop with Taring Padi and Komunitas Pojok, followed by acoustic performances by Geekssmile and Navicula.
Location: Taman 65 Jl WR Supratman, Kesiman Denpasar
Date/Time: Saturday, October 8th, 2011 at 3:30pm.
Workshop participants are encouraged to bring blank t-shirts in light colors on which they can have wood cut prints created during the event. Taring Padi's book will also be available for purchase during the event.
Related Posts: