A failed French teacher goes on to become the sound architect behind Bali's best recording studio.

In one short year, Serambi Arts Antida has become the choice haunt for the young novice and seasoned doyen to socialize, theorize, and cultivate an already burgeoning Denpasar arts scene.
On Saturday (29/10) Serambi Arts Antida celebrates its one-year anniversary with a lineup of performing artists that suitably reflect Anom's vision for an artistic mélange on the Serambi stage: Performers include dramatist and writer Cok Sawitri, two outstanding folk trios Nosstress and Dialog Dini Hari, 15-years-strong rockers Navicula, and several international guests, including tenacious hip hop emcee and long-term Bali resident Kamau and visiting American blues and soul guru Jim Larkin. One year ago Serambi opened its doors to local, national, and international performing and visual artists and their enthusiasts. In the last year, Serambi Arts Antida hosted some of the most talented and creative provocateurs through photograph and painting exhibitions, music album launches, education workshops, jam sessions, and poetry slams.
The cozy, open-air venue, partitioned into a warm bar and stage area and an inviting, spacious garden, is attached to the island's best recording and production studio—and consequently boasts the best live sound mixing, a reputation which is attached to the name of the architect behind it all: Gung Anom.
Antida's roots lie in a country thousands of miles away from Bali: Switzerland. Anom moved to Switzerland where his father was employed in order to study French, with the goal of becoming a French teacher in Bali upon his return.
But with only three months of French lessons at Alliance Francaise under his belt before settling in Europe, Anom faced an uphill battle gaining entry into Switzerland's competitive school system. Eventually, after several months of intensive language studies, Anom managed to secure a spot at a college in Geneva, studying French and linguistics. During his studies he pursued his love of French—and met his true love and future wife.
Toward the end of his studies, Anom realized he had little interest in returning to Bali. He enjoyed his lifestyle in Switzerland, and particularly the creative community to which he had access in Geneva. He couldn't imagine returning to Bali: a place that, to him, was still devoid of a thriving music and arts scene.
But newly married and with work and residency permits in hand, Anom now faced the hard truth that there was little he could do with a certificate to teach French as a non-native speaker living in Switzerland. "I still wanted to live in Switzerland, but I couldn't work as a language teacher," he explains. "My first experience in the recording studio was making coffee for the engineers and cleaning the studios," Anom laughs. "Eventually, the engineers gave me a few lessons."
So with no job prospects in the field of language teaching, Anom turned his attention to another: He enrolled in a state-run audio technician school and began freelancing as a sound engineer for television broadcasting, live outdoor productions, and theater. He worked everyday and attended audio theory classes once a week for two years before receiving his certificate and beginning work fulltime in sound reinforcement.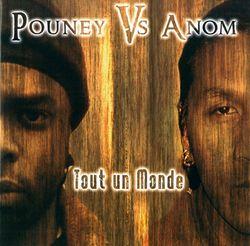 Anom opened a small, underground studio in Geneva, christened with the same name that signifies the high-end and expansive production studio now located on Jalan Waribang. He also explored other musical terrains: together with his friend, Pouney, he founded a French hip-hop duo called "Tout un Monde," All The World. Anom was kind enough to offer a track from Anom vs Pouney for free download on Akarumput.com.
After thirteen years in Europe, Anom's romanticism of life there began to wear thin, and he longed to return to the serenity he remembered in Bali. "It turns out that life in a foreign country isn't as easy as we imagine," Anom recalls. "Don't think that everything there will be great. It's actually really difficult, and I had to work so hard." Anom and his wife left Switzerland behind and settled into Balinese life and Denpasar. "These days," he says, "I'm much happier in Bali, much more comfortable."
In 2004, Anom opened a tiny studio in a storefront space—the second location of Antida Studio—in front of Taman 65 on Jalan W.R. Supratman, which he subsequently filled to capacity with the audio equipment he purchased and brought back from Switzerland. He continued to freelance, mixing for live events, and he rented his studio for recording and production.
Finally, in 2007, with the help of a few wise investors, the third edition of Antida Studio opened its doors on Jalan Waribang. Antida Studio quickly gained a reputation for its international-standard recording equipment and expert recording, mixing, and mastering engineers. "The thing about sound reinforcement is that you really can't study it in theory," says Anom.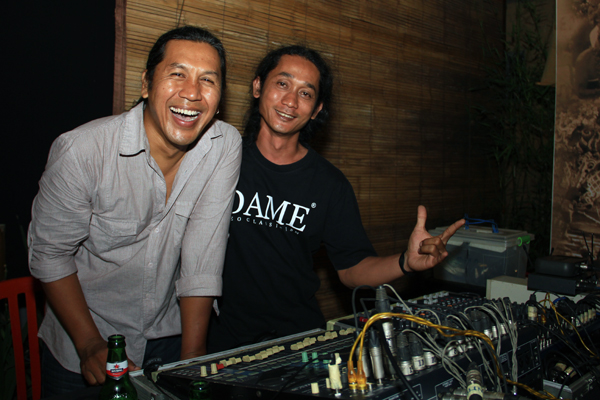 Today, as he nears fifteen years of experience, Anom's services as a freelance engineer, as well as his studio, are in high demand. Balinese, national, and international recording artists ranging stylistically from hard rock and grunge to jazz, pop, world music, and gamelan have all recorded and produced albums at Antida. "Dangdut's the only thing we haven't recorded," Anom says, chuckling. Anom has also sponsored and produced several artists, including Dialog Dini Hari and Nosstress. Anom says, "My dream is to start a record label under Serambi. I enjoy supporting bands who have great potential"
Anom hasn't completely left Switzerland behind: he returns once a year to spend several days handling sound for large conferences and festivals. The time spent there—and the extra cash flow it provides—allows Anom to maintain his internationally competitive studio.
Anom has long contemplated making a more direct impact on Bali's creative community. This desire became the impetus for breaking ground on Serambi Arts Antida. "Serambi Arts Antida is dedicated to developing and promoting contemporary art and culture of the local communities in Bali."
He also hopes these local communities feel a sense of ownership over the space, and he is proud it has become a popular hangout, particularly for local musicians and their friends and fans. But he also wants to facilitate an experience of a wider diversity of art: "Bali has such a strong rock music scene, and that's great," he explains. "But I also hope young people can hear something new as well." One of Serambi's most popular music series has been their world music concerts. "I'm hoping that this kind of music can have a place in Denpasar, just like rock music. I want to encourage young people to hear and appreciate all kinds of music in an open, creative forum."
With Serambi's continued success, it seems that the creative community Anom appreciated so much in Geneva can now be found in his own backyard.
---
All photos by Rudi Waisnawa.
Related Posts: