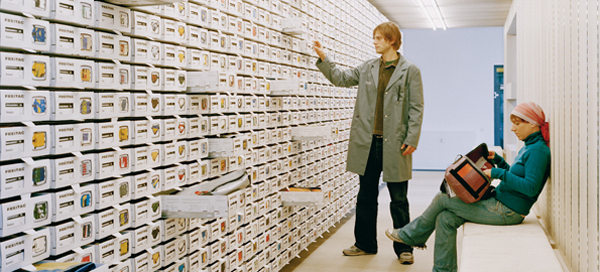 Freitag is a statement that makes the wearer feel different.
Strong, unique and authentic are three words that definitely represent Freitag bags. "The visuals are very attractive to the trained eye. Freitag is a happy surprise in this day-to-day world filled with mass-produced and standardized products," says Windelin Hess (33), a designer who first bought a Freitag bag in 1994.
Freitag distances itself from imitative trends which result from mass production. The phrase "Each bag is unique" isn't just the Freitag tagline: Freitag offers a unique declaration for the urban person suffering from "a feeling of disorientation and a need to communicate in the center of disconnectedness and individuality of urban life," according to the authors of Freitag: Individual Recycled Freeway Bags.
The aforementioned book was printed with the same creative enthusiasm: 10,000 unique copies were printed with different covers. This 500-page book is not heavy on the text, but exposes the ecological, economic, and sociocultural motivations of Freitag since its foundation, as well as images of 3,000 Freitag bags and their owners. These are members of the neurotic metropolitan generation, who are surrounded by consumerism but want to look different.
To understand the context of Freitag's success, you have to understand that Switzerland is a small, wealthy country. This country, which is often shown on post cards with blue lakes and flying geese, has a population of only 360,000, and its per capita income is an staggering US 587,000 dollars. According to the same book, "Swiss people are ready, willing and able to fill the big hole of boredom in their daily lives by shopping."
Freitag's success was supported by their smooth arrival into the Swiss underground scene. Freitag became a mandatory accessory for young people going to clubs or rave parties around Europe.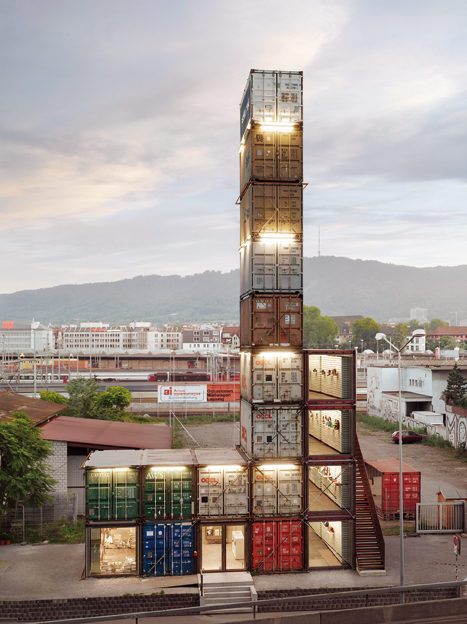 In 1999 Freitag opened a main outlet in Davos, a small city in the heart of Switzerland. Two years later, another store was opened in Hamburg. In 2006, Freitag opened yet another store in Zurich, which got a lot of attention because it was constructing by stacking 17 rusty, shipping containers. With a height of 26 meters, the store became a bonsai skyscraper in the city of Zurich, despite strict regulations of tall buildings.
Freitag products can be purchased online through www.freitag.ch. Since October 2002, Freitag offered a feature called F-cut, which allowed customers to design their own unique bags online. This Flash application presents a range of tarps from which to choose. If you're not totally satisfied with the ones available, you can come back in a few days to check the new tarps in stock. Customers simply place the bag design on the section of tarp they want to choose. At the factory, the tarp will be cut following the customer's specifications. Two weeks later, your new, custom-designed bag arrives at your doorstep.
The Top Cat Freitag bag has been added to a design collection at the New York Museum of Modern Art (MOMA), a huge honor coveted by artists the world over (to date no Indonesian artist's work has been accepted by MOMA).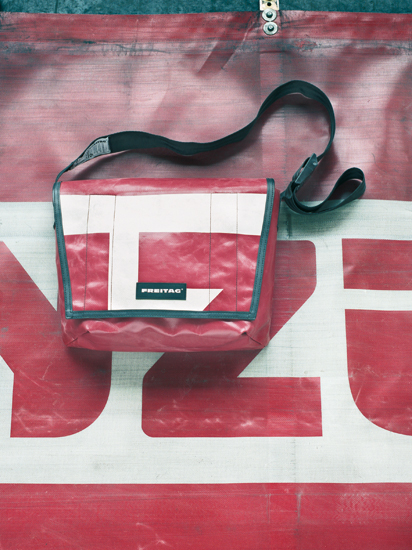 Since the 1980s, the question of environmental degradation has been a widely discussed topic, and not exclusive to environmental activists. Cries to stop deforestation, environmental pollution, and green house effect have all become popular movements. Terminology such as Eco, Green, and Global Warming are often used when discussing the importance of Reduce – Reuse – Recycle.
Some environmentalists consider recycling to be too expensive and too energy consuming. This is where upcycling provides a great alternative solution by turning useless, discarded material into something useful and new, like what Freitag has done. Anyone can find used, discarded objects and transform them into something newly functional.
If upcycling becomes a new trend, do upcycle products hold special economic value? Freitag's success suggests as much. And it also suggests some important questions about what consumers want: For example, why would people spend 250 Euro on a bag made from old truck tarp?
Related Posts: