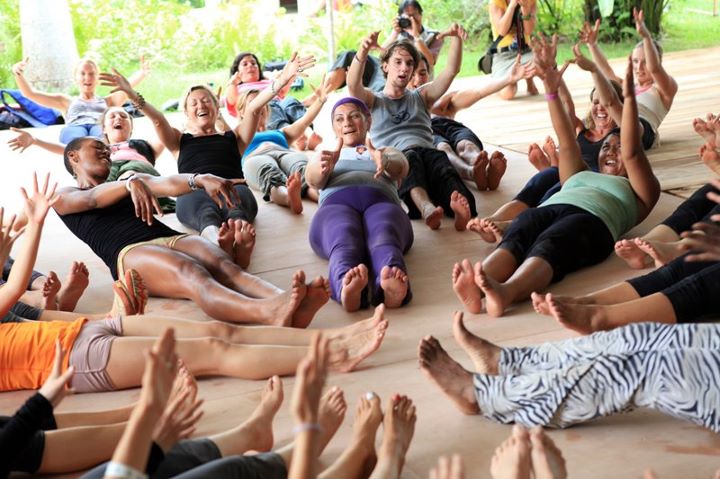 The fifth BaliSpirit festival has concluded last week. Five days packed with offerings ranging from yoga and dance, to music and holistic medicine workshops, this year's festival attracted the largest crowds yet in its history. Susan, yoga practitioner from the United States, sums up her experience of the festival: "There is a huge number of workshops, and so many amazing new things to try. But for me, the most important part was to meet so many like-minded people and to connect with the community."
The international audience that flocked to Ubud to experience the BaliSpirit festival is part of an ever-growing international community of health- and environment-conscious yogis, musicians, and dancers. This year, BaliSpirit attracted more than 1,000 participants from the United States, India, South America, Australia, China, Japan, Western and Eastern Europe, and Africa. John Ogilvie, yoga presenter, festival sponsor and founder of Australia's Byron Yoga Center, recognizes the galvanizing power of the festival: "There is an international community present at this festival. All of them will take ideas and inspiration from this festival back to their own communities." In this way, global awareness relating to health and environmental issues grows. Spirituality, as Ogilvie points out, has to be practical. By building an international community, the maxim 'Think Global, Act Local' can become a reality.
The general atmosphere of the festival encouraged sharing and community, and presenters as much as the audience enjoyed the many new connections and shared experiences during the festival.  "To me, as a presenter, the festival felt playful and free and because we all join each other's classes, Michael Hallock, Watsu teacher, explains. "Normally, as a presenter, I would be a 'special' person at an event, but here I was one of many. It was really humbling because I saw so much greatness around me, so much talent and creativity. I saw many people in the fullness of their expression. It was very inspiring and humbling." Presenter John Ogilvie, who says he enjoyed the experience of switching roles from teacher to student when he joined workshops led by his world-renowned peers, shared this feeling.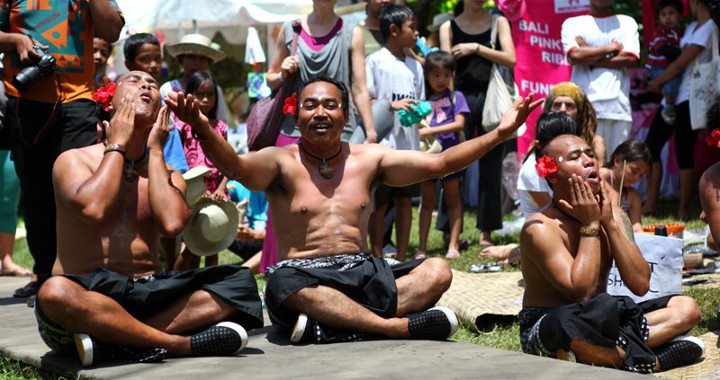 Bali is an ideal location for the festival – the Balinese are natural yogis, who live their form of yoga on a daily basis. As devout Hindus, they perform offerings and ceremonies on a daily basis, and service to the community is the norm rather than the exception. Kadek Gunarta, co-founder of the festival, asserts, "We Balinese do yoga our whole lives. We do yoga every time we make an offering and every time we go to a temple. We are always trying to lift our consciousness." It is this constant effort to maintain a connection to the unseen world that makes Bali such a magical and inspiring place for Western visitors. This atmosphere is amplified during the festival, as many workshops encourage participants to look inside, become more conscious, and open their hearts.  Or as self-proclaimed 'badass' yoga instructor Cheri Rae, from Peace and Love Yoga, Los Angeles, puts it: "You do yoga to become a better person. If you don't – get out of my class and go do aerobics!"
In an effort to promote and include local presenters and audiences, this year, several Indonesian presenters added more local flavor to the festival. While the vast majority of yoga presenters were white Westerners, Indonesian presenters such as Jane Chen, Indrawati Widjanarko and Dewi Asmarani were welcome additions to this all-white line-up.  There is still some way to go, however, to make a truly inclusive festival, especially regarding the Indonesian audience. As a positive gesture, the festival offers one day with free access for everyone, and especially Balinese families, with special workshops organized for children, and yoga classes with Balinese village elders, amongst others. There is, however, no adjusted ticket price for Indonesian participants, which is reflected in the under-representation of Indonesians in the audience during the other four days of the festival.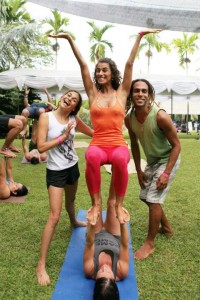 Giving back to the community, as a yogic principle, is a major theme running through the festival, and is inspiring to Westerners who might be craving a deeper sense of community and connection in the materialistic and individualistic West. BaliSpirit festival might just be a small part of the growing movement of people seeking community and holistic lifestyles around the world, but its ripple effect through the inspiration it provides is larger than the festival. According to John Ogilvie, "If we can get enough people doing yoga around the world, it will be a better place" – a simple formula, which recognizes the capacity of the festival to inspire proactive change among its international guests.
One such ripple effect of the festival has been the inspiration it has provided for similar yoga and holistic health festivals that have developed around the world – such as the Namaste Spirit Festival held in Jakarta, the Byron Bay Spirit Festival in Australia and the Hawaii Spirit Festival. Founder and Chairwoman of Namaste Festival in Jakarta, Anita Boentarman, says that she was "inspired by the BaliSpirit Festival." She further commented, "Yoga is not about competition, it's about union and working together. We want to work more closely with the BaliSpirit Festival."
One important aspect of the festival's mission relates to the environment. BaliSpirit prides itself in its partnership with green organizations such as Bali Cantik Tanpa Plastik, Bali ReGreen and the Environmental Bamboo Foundation. It is also linked to the East Bali Poverty Project and donations collected on Hari Cinta Keluarga day are donated to Ayo! Kita Bicara HIV/AIDS, an NGO created by BaliSpirit to engage the local community in conversations and education about HIV & AIDS.
Pau Castellsague, yoga presenter and founder of the Barcelona Yoga Conference, insisted on the urgency for people to take positive action: "I feel a strong connection to nature here in Bali, it is very inspiring. But what we humans have done to nature is very sad. We suck! It is time to change. And I don't mean it's time for the intention to change. It's too late for intentions. We need to make change happen, now."
While the festival does take its responsibility for the environment seriously, as is exemplified in their waste recycling program and support of environmental organizations, it isn't perfect. The presence of plastic spoons, chopsticks made from tropical forest wood, and a huge number of paper cups still mar the image of a fully environmentally friendly festival. The consciousness and will to limit the impact of the festival on the environment, however, is well present, and efforts to manage waste have constantly improved since the festival's inception five years ago.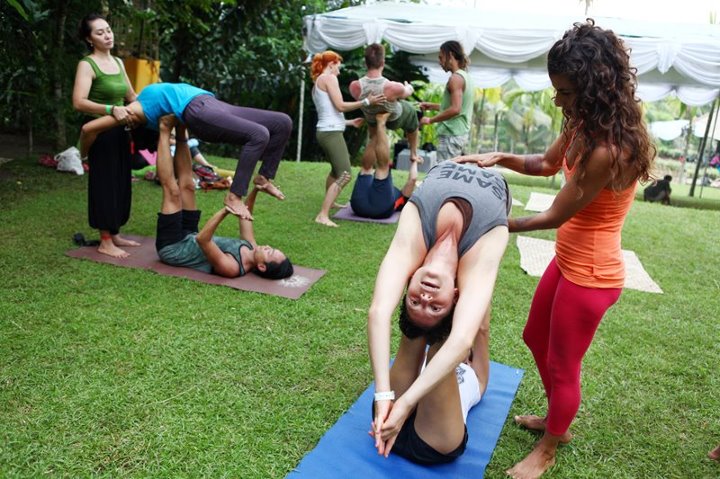 Overall, this year's BaliSpirit festival was a successful and positive event, galvanizing an ever-growing community of people who crave positive change in the world. And besides this grand aspiration, it was also, simply, a lot of fun. With workshops ranging from many different styles of yoga, such as Hatha, Anusara, Yin, Vinyasa Flow, Ashtanga, Acro and Kundalini, and lots of dynamic dance workshops, including Nia, 5 Rhythms, and the hugely popular West African Dance, there were plenty of opportunities for both for self-reflection and growth, as well as for good, plain fun, exhilaration, and booty-shakes! And while the Festival united some of the world's most experienced yoga instructors, the festival welcomed beginners and the simply curious too.
Yoga is for everyone, and yoga should be fun, as Cheri Rae's words bring it to the point: "Yoga should feel good." And this is what this festival was about, most of all – feel good, do good.
Related Posts: