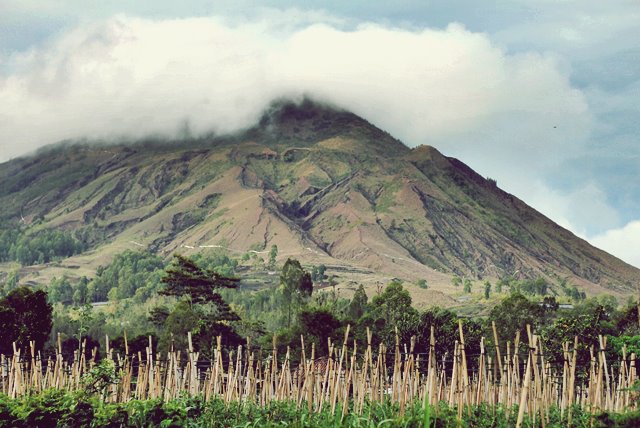 Though the volcanic soil surrounding Lake Batur should be fertile, the region is suffering from environmental degradation. But Tegal Matanai is attempting to reintroduce chemical free farming practices to make a difference.
The first time I set foot in Songan was in January 2007. What I felt then must have been what Sutan Takdir Alisjahbana (STA) experienced when he first arrived in this village 50 years ago. Like the characters Yasin and Molek  in the romantic novel written by STA, Dian yang Tak Kunjung Padam (A Shimmer of Light that Does not Fade), I was in love.
Far from Bali's touristic atmosphere, this village has everything it needs to survive today and into the future: A stunning natural view, widespread farming fields, hot bathing springs, and cool pools for freshwater diving—difficult to come by on the tropical island of Bali. Songan village is located in the volcanic highlands. The cool mountain weather creates fertile soil for fruits and vegetables to grow, and the produce from this region can then be distributed to markets all across Bali.
It appears that nature prepared everything that the people here could need, despite the geographic location of this village far from any larger town center and its difficult accessibility.
The first time I went to Songan I stayed the weekend, spending hours exploring the hillsides, playing in the lake, walking through the village or just sitting in front of the poet's library. When I entered the village, I could still find the house where STA used to live. In 1971, STA founded the art center Balai Seni Toyabungkah. He once dreamed that this village would become a center for the arts.
I used to frequently visit Songan, but four years later, I spend less and less time there. I feel like driving two hours from Denpasar to visit a distant village is too much effort for what I find when I get there. Songan today is not as beautiful as it once was, partly because of a cultural shift in the people, who no longer follow the traditional wisdom of their predecessors.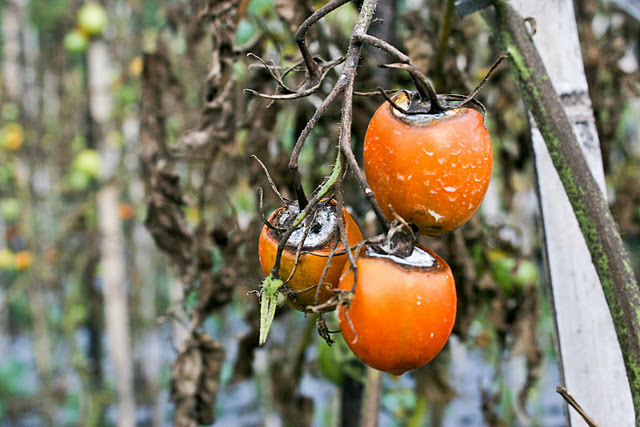 Over the years, I have observed the farming methods in Songan. There is no more than a manageable 50 hectares of land where fruit and vegetables are grown, but local residents have given up traditional farming methods and are now dependent on chemicals to boost production. As a result, the quantity of produce has increased.
Lake Batur has recently been removed from the list of fresh water diving spots in Bali. Six months ago I accompanied several friends for diving there; afterwards I was sick with fever and itchy skin. The local villagers said that we had been 'disturbed' by the protector of the lake.
We joked about how the protector of the lake would probably be more amicable if chemical residue from the farmlands and waste from the village did not end up in the lake. Perhaps the villagers have already 'disturbed' the protector of the lake, and we were suffering the consequences. That would be the last time we went diving there.
In late November last year I asked locals why it appeared that their entire vegetable crops was failing. "It's rainy season, the sun rarely shines, it's just cloudy every day," said Ketut Sidarta from inside his vegetable patch, where he was pumping chemical liquid onto his crops.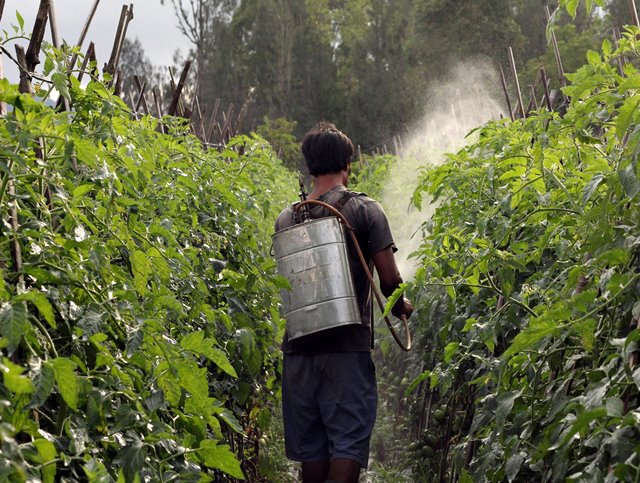 That was all. When crops fail and nature refuses to provide what is needed to grow, people tend to blame nature. Ketut Sidarta is one of many farmers in Songan who has become a victim of modern farming practices. In fact, using good farming practices can improve crop resilience, even in extreme weather. But Ketut does not realize how good farming systems could help him and reduce the risk of crop failure resulting from weather conditions.
We so easily forget what nature has taught us in the past. For hundreds of years, the people of Songan farmed without the help of factory-made chemical fertilizers and pesticides.
Healthy soil provides a living environment for beneficial microorganisms to reproduce, including biota that can become a natural antibiotic to protect plants from insects and disease. Some organisms produce food for plants, while others protect the nutrients in the soil. The use of chemical fertilizer and pesticides has truncated this natural chain. These chemicals force plants to grow, even while their roots search for sustenance in nutrient-depleted soil. Songan farmers are forcing the plants and nature to work for them, not the other way round. I believe Songan could potentially be an independent village, but its modern farming practices have been marginalized it.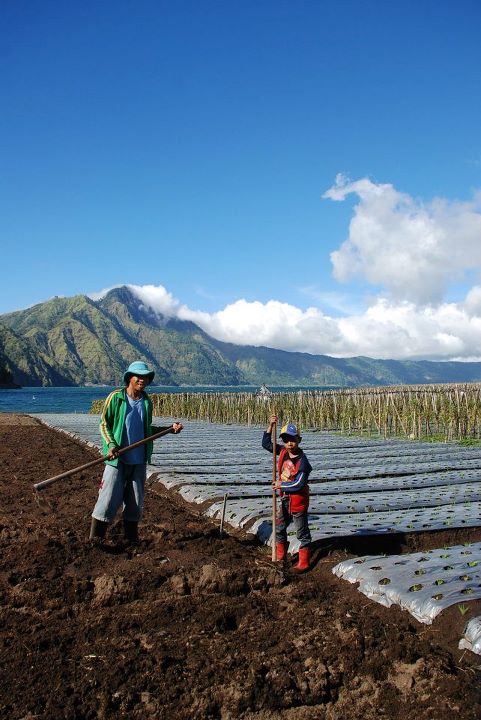 But now there is now a glimmering hope for change: A few small-scale environmental projects for healthy farming have launched in the area. Tegal Matanai, is one such project, taking its name from the local dialect, meaning Sunshine Farm. Located in Banjar Serongga, a small plot of land belonging to the village priest is being used as a collaborative farming space for students from local schools around the area. Tegal Matanai is farmed according to local wisdom. Everyone involved in this simple project is invited to work with nature and for nature.
In this way, Tegal Matanai attempts grow methods that differ from current farming practices in Songan. In addition to planting fruit, vegetable and sunflower seeds, this project is planting seeds of hope.
Hopefully over time, the people will realize that there is something more important than just having enough for today; hopefully Tegal Matanai can become a shimmer of light to inspire more change, so that Songan can once again become a light that does not fade.
Photos by Teddy Drew.
Related Posts: