There are two main environmental issues that keep coming to the surface throughout 2011: the slaughter of orangutans and the negative impacts of palm oil plantations.
Recently, the Indonesian press has released shocking coverage of orangutans (pongo pygmaeus), which were hunted down in Puan Cepak village, Muara Ancalong Region, Kutai Kartanegara. The orangutans in the area were allegedly damaging palm trees, causing the palm oil harvest to fail, so villagers caught and tortured the orangutans.
Akarumput.com, WALHI Bali, and musicians such as Gede Robi (Navicula) and Made Bayak (Geekssmile) feel it is important to bring attention to these issues through a creative event in Bali. This initiative received a positive reaction from Edi Sutrisno of Sawit Watch, who offered to support it. This event will also be partnering with other organizations who share these concerns, especially those with a focus on orangutan survival.
Following an initial discussion, these groups agreed to collaborate in the event "Suara untuk Alam II" (Sounds for Nature II). Suara untuk Alam is an initiative started by WALHI Bali, the first in this series of events was held at Twice Bar, Kuta on August 19th, 2011. During the first event, hardcore band Geekssmile also launched a single titled Yeah Yeah Yeah Indonesia. Suara untuk Alam II will be held on December 17, 2011 at Seamen's Center, Sanur.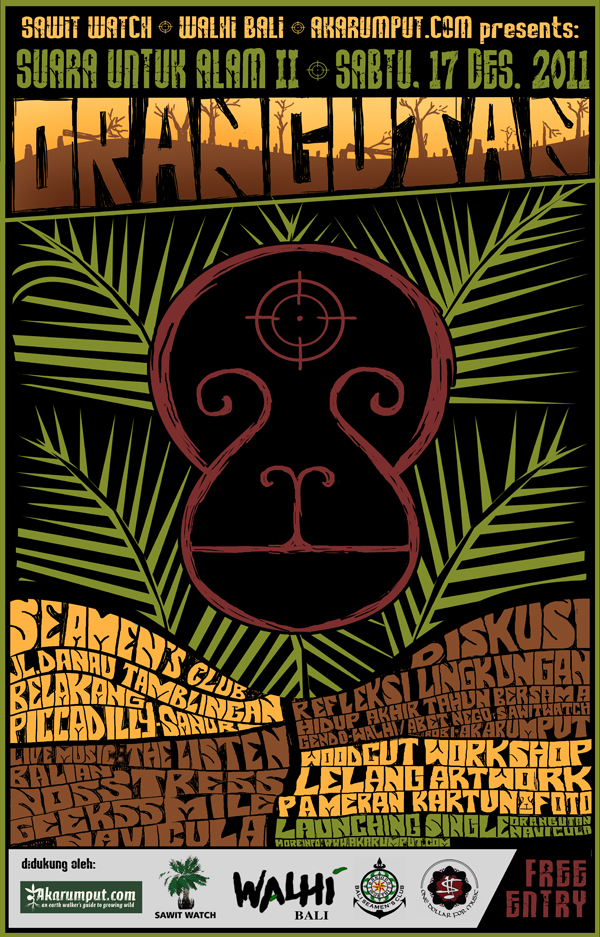 The following is a short preview of the event agenda: 
Orangutan artwork auction: During the Bali Creative Festival at Grand Bali Beach in Sanur this 25-27 November, many artists created artwork with an orangutan theme. These works of art are paintings on chipboard, illustrations on paper, and woodcut prints. During the event, many people asked if the artwork was for sale. This gave way to the idea to auction the artwork for a bigger purpose. So these artists could contribute to an environmental charity, as well as raising awareness about orangutan issues through their art. The funds raised through this auction will be donated to an environmental organization based in Bali (WALHI Bali) and an organization focused on the survival of orangutans.
Launching Navicula's new single "Orangutan": Navicula is dedicated their latest track "Orangutan" to environmental conservation efforts in Indonesia. This new single will also make up a track of their upcoming album, due to be completed early next year. Besides the track Orangutan, Navicula has also recorded two other songs Harimau Harimau (which means Tiger in Indonesian) dedicated to the Sumatran tiger and Refuse to Forget a track for the campaign in rememberance of the human rights activist Munir who was murdered in 2004 and the case has still not been brought to justice.
Related Posts: