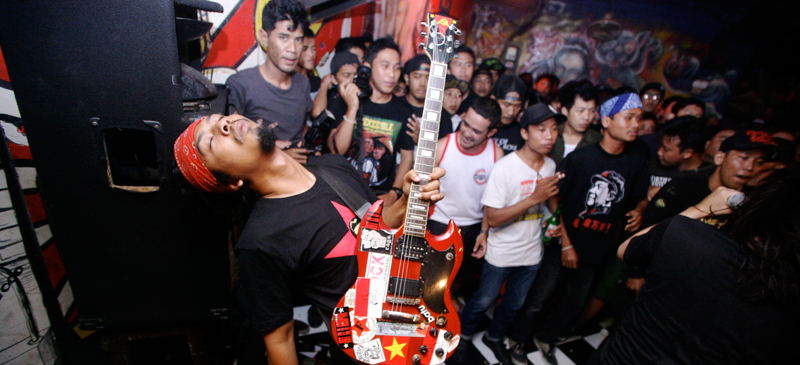 Denpasar-based rock band Geekssmile takes a shot at mindless patriotism with their latest single, "Indonesia."
Geekssmile launched their latest single, "Indonesia (Yeah, Yeah, Yeah)," in late August to a packed Twice Bar in Kuta, supported by punk band Devildice and grunge/psychedelic rock outfit Navicula. The small venue was filled to capacity with fans of the three bands. By the time Geekssmile took the stage fans had overwhelmed the floor-level stage area, nearly toppling over mic stands and amplifiers and forming a raucous mosh pit in the center of the bar.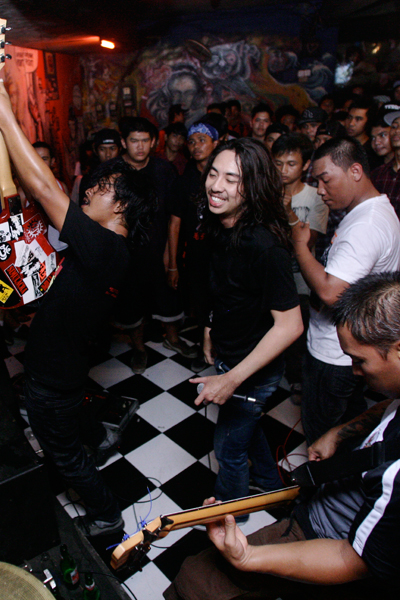 "Indonesia," an instant crowd favorite at the Twice Bar launch, marks a stylistic turning point for the group, who have pared down their lineup to one frontman and moved on from Indonesian hardcore (reminiscent of American rap/rock), in favor of a combination of heavy metal and progressive rock. The single comes on the heels of the 2010 release of Geekssmile's second studio album, Upeti Untuk Macan Indonesia (A Tribute to the Asian Tiger), which was highly praised in national underground scenes and the music press.
Geekssmile's lineup and sound have changed since their formation in 2001, when they played mostly Rage Against the Machine and other rap/metal covers in local rock festivals. After the 2004 release of their first full-length album, Jurnal untuk Perang Indonesia (Journal of Indonesia's Wars), the band became active in Bali's underground scene, playing alongside some of the island's best-known rock acts. Since their recording debut, Geekssmile have gained notoriety for the radical criticism embedded in their lyrics. The band offers scathing critique of national and global social, economic, and political problems.
Their latest effort, "Indonesia," takes a shot at mindless patriotism. Geekssmile vocalist Prima explains, "many people feel that this is a nationalistic song, but in a good way." Rather than joining other pop bands that have recorded overtly patriotic songs celebrating Indonesia, Geekssmile's song takes a critical look at how nationalism can blind its citizens to social injustices: "We're not really proud of this country because we've never felt secure and peaceful in our own land. So for us this song is a criticism of the people who are actually running this country. Prima hopes "Indonesia" will command attention like a slap in the face: "Where other songs try to make you feel at ease, we will slap you. We are trying to make you realize what kind of world we live in. What kind of state we live in now."
Geekssmile launched "Indonesia" as part of a concert put on by Wahana Lingkungan Hidup Indonesia (WALHI, the Indonesian Environmental Forum) to raise awareness about the infamous Bali International Park (BIP). BIP is a huge infrastructure planned for construction to accommodate the Asia-Pacific Economic Cooperation (APEC) Summit to be held in Bali in 2013. Walhi has publicly rejected BIP, pointing to violations of the province's own master spatial plan.
"Indonesia" is available for free download here:
---
Lyrics "Indonesia" by Geekssmile:
(English translation,click here to read the Indonesian lyrics)
See this land through my eyes, not only red and white
There is black gravel asphalt, a history of silencing
Running to collide with reality, your mouth chews the stigma
Fall over the choices that are squeezed from our womb
Open your eyes
Pay your banker, pay your prostitute, pay your bookie; die again
Mortgage life, mortgage your land, sell the commodities as a hoax
This sound will reverberate when the trumpet arrives
This time the choice is yours, it's slash and boundaries
I, if you
Chasing the shadow of a destiny that is not yours
Race toward the hope that rests in the idol called "country."
Yeah, yeah, yeah, Indonesia, yeah, yeah, yeah.
Related Posts: