For its first offline community-based initiative, team Akarumput.com directed their creative and environmentally-conscious energies toward a well-trafficked neighborhood street in urban Denpasar. Together with local artists, they created a massive street-side mural and eco-conscious campaign.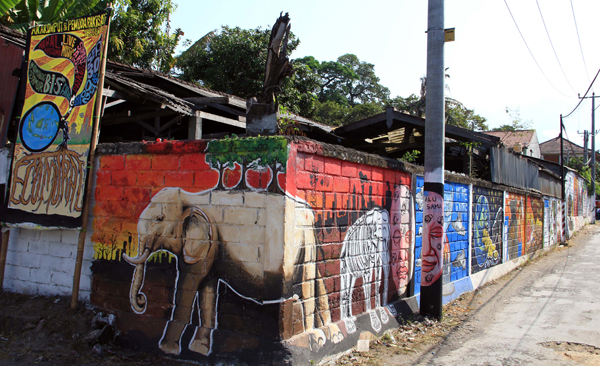 The city of Denpasar, which is famously overcrowded, overdeveloped, and deficient of a proper waste management system, is finally seeing some much-needed eco-action at the grassroots level: In addition to the many public awareness campaigns organized by Denpasar-based Walhi (Wahana Lingkungan Hidup Indonesia, the provincial branch of the Indonesian Environmental Forum), Akarumput, in partnership with the Bali International School and Pemuda Pakisaji (the youth coalition of the neighborhood of Pakisaji), took to the streets with buckets of paint and a single objective: To provoke community pride and environmental awareness in the heart of the urban jungle.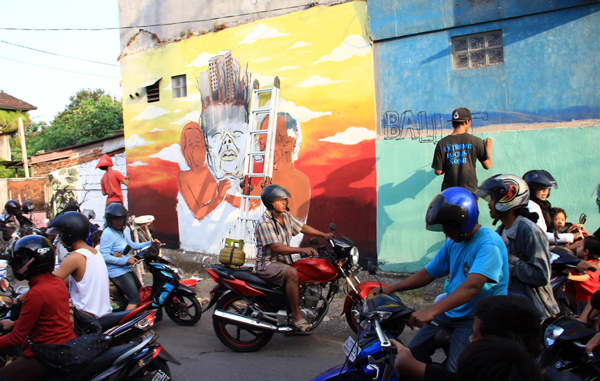 For three days Akarumput, supported by a team of artists, mostly from the Indonesian Institute for the Arts, Denpasar campus (Institut Seni Indonesia Denpasar) and young painters from the Bali International School gathered along bustling Jalan Pakisaji off Jalan Hayam Wuruk in southern Denpasar. Together, they brightened an otherwise dingy urban street with a decidedly eco message. They created an Eco Mural spanning more than 55 meters along one of the most highly trafficked roads in southern Denpasar. Jalan Pakisaji is the main artery for a broad network of neighborhood alleys that make up Perumahan Pakisaji.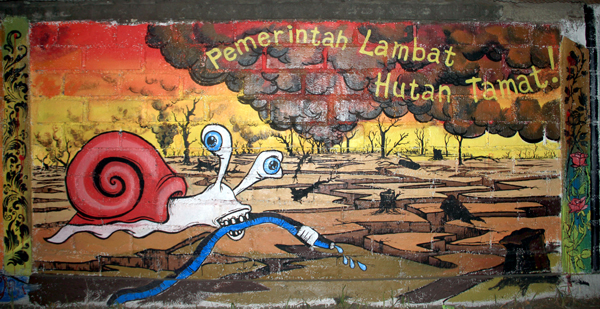 Some mural highlights included a painting depicting a clear-cut wasteland and a devilish snail toting a water hose accompanied by the words, "The Government is Late, Our Forests are Wasted (Pemerintah Lambat, Hutan Tamat)." Another featured a modern take on mother earth, crowned with soaring skyscrapers choking the last straggling trees and flanked by two children in gas masks. Despite the gravity of its message, the mural wasn't devoid of comic wit: One artist depicted young boys urinating on blossoming plants, capped with the slogan, "Save Water."
Bali International School of Sanur donated the majority of the funds needed to purchase the rooftop paint used for the mural. "It's so funny; I've never seen the students show such dedication during any of my lessons," BIS instructor Kayti Denham explained, laughing. "They're really getting the point of community action."
Made Bayak, a Tampak Siring native, guitarist for hard rock band Geekssmile, and art instructor for Sanggar Anak Tangguh in Sukawati painted his portion of the mural with his five-year-old son, Damar. Bayak just wrapped a mural project with S.O.S., the Sumatran Orangutan Society, based in Ubud, Bali.
Pemuda Pakisaji were instrumental in the completion of the mural. Not only did they help provide production support, traffic control, and food and drinks for the artists; they also spent the three days before the artists arrived picking up all of the rubbish along the road to make it clean and ready for refurbishing.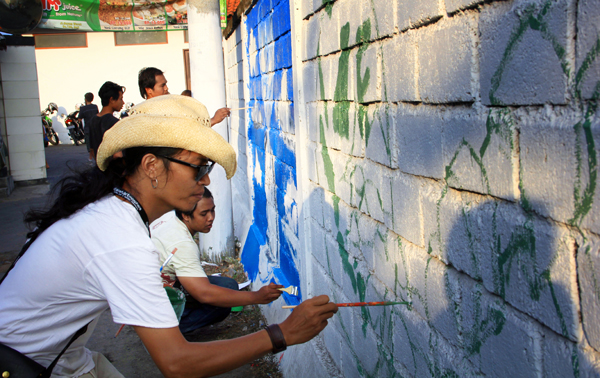 "The main goal of an event like this," explains Gede Robi Supriyanto, event coordinator for Akarumput and contributing artist for the mural, "is to make our neighors proud of where they live so that they'll want to take care of it." Robi also hopes that the mural, which has drawn a lot of attention from passersby commuting from work on their motorbikes, will slow down traffic around a dangerous blind curve on the road.
Farabi Music School, which is located on Jalan Pakisaji, also lent its support by providing equipment and performance space for an evening of live performances on the final day of activities.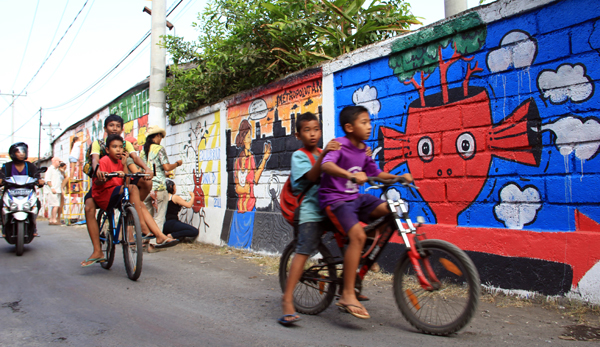 While artists returned to Jalan Pakisaji over the next few days to add final touches to their work, the main program concluded Sunday night with plenty of arak, delicious fresh fish and plecing kangkung provided by Ibu Ngurah's warung, and music performances by bands organized by Farabi, as well as hard rock bands Navicula and Geekssmile. Guna Qupitt of Nosstress, who is preparing for the launch of the band's first album on 14 October at Serambi Arts Antida, also made a guest appearance.
---
All photos by Rudi Waisnawa.
Related Posts: