We live in a fast paced world. Issues, problems and concerns are all easily forgotten, just as quickly as they appear. An issue becomes the center of attention only while the topic is hot.
Now, as 2011 comes to an end, social media in Indonesia is filled with stories of orangutans being slaughtered. But in a matter of weeks, it's as if the issue was over. Orangutans are still at risk. Indonesia is still rife with deforestation, and land for palm oil plantations continues to expand without any significant resistance.
Palm oil companies actively implement greenwashing tactics to conceal the fact that they are the orangutans' main enemy. This is the second effort to improve their image after their first tactic to convince people that palm oil plantations are part of "reforestation" efforts.
From Bali, as a participative alternative media, Akarumput.com put on the event "Orangutan – suara untuk alam II" (sounds for nature II), in partnership with Sawit Watch and Walhi Bali at Seaman's Club Sanur, this December 17th. The event started with a discussion "End of the Year Environmental Reflections" with Albert Nego Tarigan (executive director of Sawit Watch), Wayan Suardana known as Gendo (WALHI Bali), and Gede Robi Supriyanto (vocalist of Navicula).
Albert talked about the importance of stopping the expansion of palm oil plantations. "Palm oil plantations are competing with the livelihood of local residents and endangered species such as orangutan. In Aceh, Riau, and East Kalimantan, orangutans are slaughtered," said Albert.
Albert also drew attention to the violence related to palm oil plantations in Mesuji, Lampung. Five people were killed during a conflict between the local community and the security personnel of a palm oil plantation. According to Albert this type of incident also occurs in other areas. "In Riau, a woman died because she was accused of allegedly occupying land owned by a large palm oil company. In Jambi, seven people were shot, and we have video footage of this," said Albert.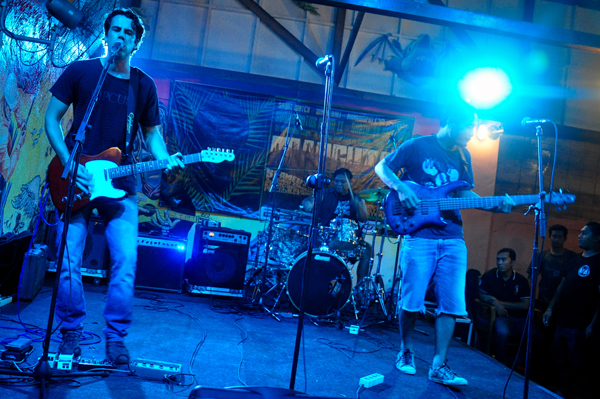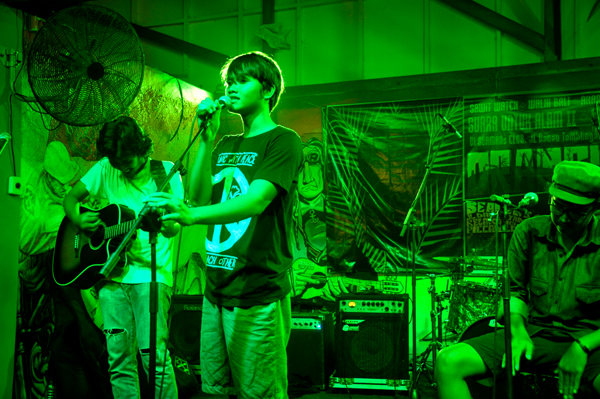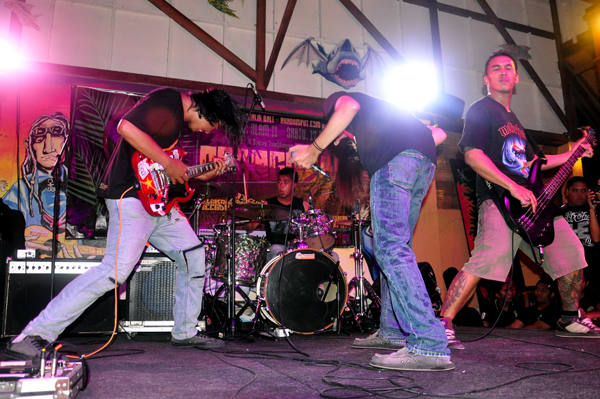 After the discussion, the event moved to the stage with musical performances by the Listen, Balian, Nosstress, Geekssmile, and Navicula.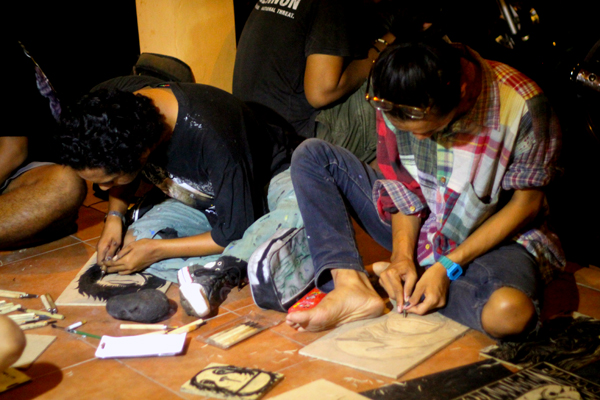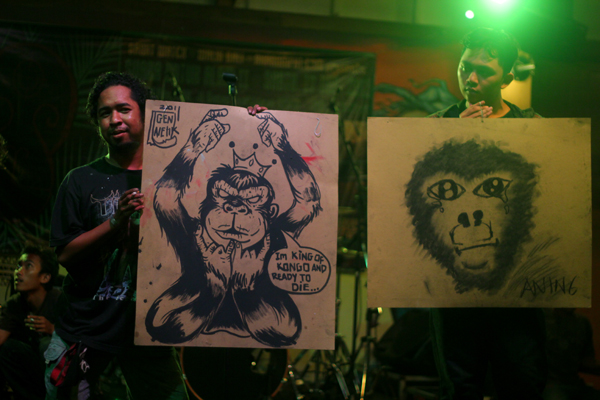 In between the performances, there was also an art auction of artwork with orangutan themes created by Balinese artists such as Made Bayak and ISI students are part of Komunitas Djamur. The funding raised was over Rp. 6,000,000, which was donated to WALHI Bali to support their environmental advocacy work.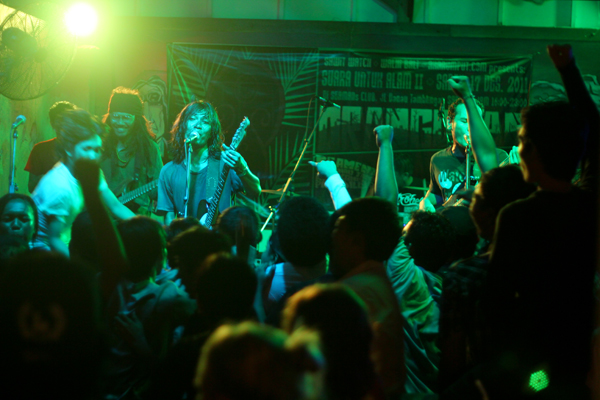 The moment everyone had been waiting for was the release of Navicula's latest single titled "Orangutan". Navicula dedicated the song to encourage people to do more in orangutan conservation, to protect this endangered species. Robi wrote the song "Orangutan" in April 2011 as a track to be included on their Navicula's new album, which will be released sometime next year. The song "Orangutan" is available for free download here.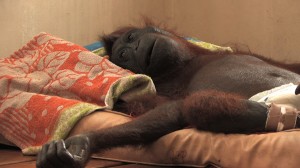 Not only did they release a song, but Navicula also released a music video to the song "Orangutan". Shots of the band performing live were edited together with shots from Green the Film. This documentary film by Patrick Rouxel follows the story of Green, a female orangutan who is on the verge of dying. The film needs no narration; it is a montage of both beautiful and heartbreaking footage.
Green is a victim of deforestation and exploitation of natural resources. This film is an emotional journey of a rare primate, alone in this world that is not on her side.
---
Photos by Vifick Bolang and Green the Film.
Related Posts: