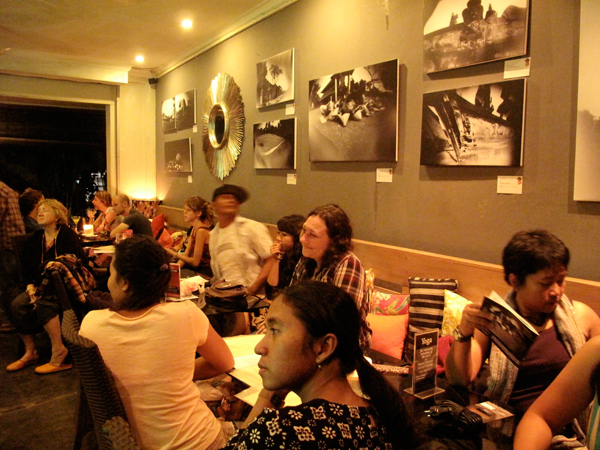 October 19th marks the last day of Sanggar Anak Tangguh and Photography Community Semut Ireng's second pinhole camera photography exhibition, "Cerita dalam kaleng" (message in a can) at Bar Luna in Ubud, Bali.
The compact Bar Luna in Ubud, Bali was packed for the opening of "Cerita dalam kaleng" last month with an unusual assortment of guests, including visiting tourists, long-term expatriate residents, Balinese painters, photographers from all over Bali and Java, and about ten prepubescent boys. This patchwork of patrons gathered to pay tribute to the oldest technique for capturing a portrait: the pinhole camera.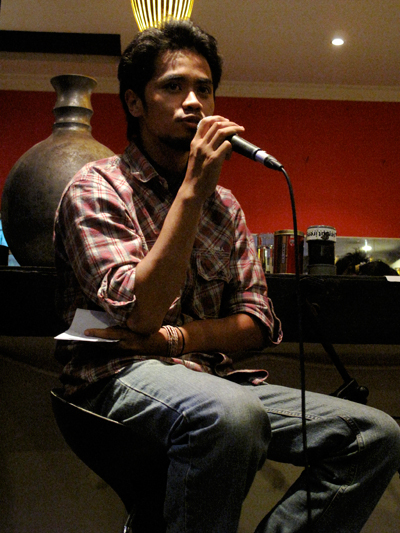 For the last three weeks the walls of Bar Luna have been adorned with enlarged photographs of Balinese Hindu offerings, street-side gutters, and self portraits, taken by the young students who attend Sanggar Anak Tangguh (Studio for Strong Children), a youth center founded by I Komang Adiarta and several other young educators in the village of Banjar Wangbung, Guwang in Sukawati. Students were taught the techniques for taking photographs with a pinhole camera by members of the photography collective Semut Ireng.
A pinhole camera is a simple device constructed out of a lightproof box with a small hole on one side that forms the aperture. Light passes through the aperture and projects an inverted image on the opposite side of the box. When film or photograph paper is inserted into the box, a duplicate image can be preserved. Pinhole cameras are the oldest documented devices for duplicating images and the ancestors of today's modern cameras. Although Alhazen (Ibn Al-Haytham, who was born in the 10th century in present-day Iraq) is credited with describing construction of the first rudimentary pinhole cameras, philosophers from China to Greece observed and documented naturally-occurring "cameras," as light shone through the holes in a wicker basket. The first pinhole camera community in Indonesia formed in East Java in 2002.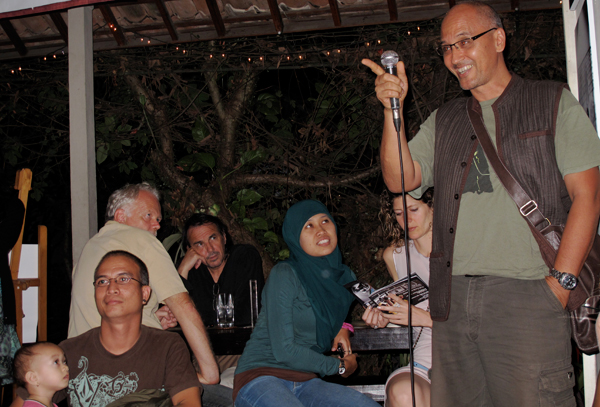 Famed Indonesian photographer Rio Helmi also attended the event and offered some sound advice to the young photographers about the history of photography and the importance of their focus on such an art form.
Sanggar Anak Tangguh's pinhole photographers constructed their cameras out of cans from their own rubbish bins, and Semut Ireng provided the photography paper and heavy, black tape used to cover the aperture of the can cameras. When asked how the children enjoyed taking photographs with their pinhole cameras, one boy replied, "we liked it because it was exciting, but we also didn't like that we had to get so hot and disturb our lunch break." The young boy was referencing the fact that pinhole cameras are most effective when used in direct sunlight.
The title of the exhibition, "Cerita dalam kaleng," (Story inside of a can) was inspired by the concept of sending a message in a bottle, as Vifick Bolang of Semut Ireng explains. By choosing to use photography paper that must be developed in a dark room, rather than film, which will instantly produce a negative image, Vificki says "the students also learn patience and the pride that comes from the process of making something on their own."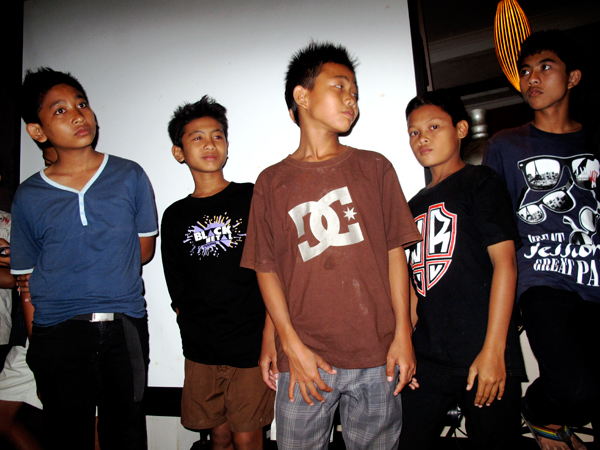 Sanggar Anak Tangguh was founded in 2007 by a group of educators in Sukawati. "We felt that the children's education in schools was still lacking," explains Adiarta, during an opening speech for the exhibition. "We want to provide them with supplemental skills." Adiarta's comments echo those made by Sanggar Anak Tangguh art teacher Made Bayak during the studio's first pinhole camera exhibition at the Art Café in Seminyak two months: "The schools in our neighborhood don't provide sufficient arts education, so we try to offer the kids classes that will make their studies more well-rounded."
The students of Sanggar Anak Tangguh gather in the studio's education buildings and lawn spaces every Sunday for lessons from the studio's seven volunteers teachers in painting, music, dance, language, mathematics, and photography. In addition to this latest exhibit, the students have also prepared a massive mural in their home village.
Related Posts: