On the 17th of August, every house, neighborhood entrance, government building, roundabout, and storefront dons the billowing drapes and fluttering flags of red and white that symbolize Indonesian independence. This Independence Day, however, a film team from the Bali Spirit Festival is thinking green, and the promise of rejuvenation and vitality most visible in the shade mother earth wears best.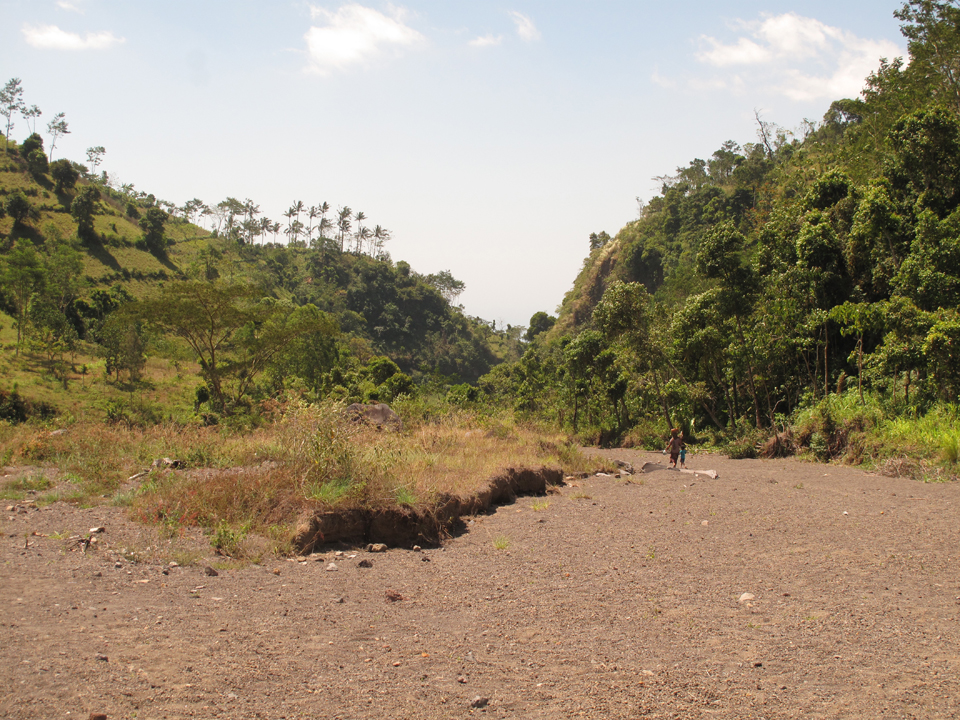 The Bali Spirit Festival (BSF) Team are headed for the northern slopes of Mount Abang and Mount Agung, which lay barren after clear cutting and volcanic eruption have robbed them of their fertile forests. There, they plan to document and help raise funds for an agro-forestry project in Desa Ban, which covers an expanse of 7200 hectares. The project was initiated by the Environmental Bamboo Foundation (EBF) and East Bali Poverty Project (EBPP), utilizing the fastest-growing canopy on earth: bamboo.
By late morning the local Independence Day Festivities are well underway; villagers from throughout Desa Ban gather for entertainment prepared by the children, including traditional and popular music and dance performances and dramatic sketches offering clever guidance, merriment, nostalgia, and youthful hope. The Independence Day stage is erected on the parched, valley floor and rimmed with the familiar banners of red and white. Kicking up the dust in one of many dried-up riverbeds in the region, it is difficult to imagine this desert-like landscape can possibly support new forests. But Arief Rabik of EBF explains, "This is actually an ideal location for bamboo reforestation."
EBF and EBPP plan to strategically expand existing forest by planting adjacent fields with bamboo. Ten percent of each hectare of land will be planted to create shelterbelts that provide erosion control and sun and wind protection. As the bamboo shoots grow into towering pillars, new grasses and other plant species will naturally germinate and thrive below. The growing forests will help reverse desertification and re-green these barren hills.
Located in one of the poorest regions of Bali, this agro-forestry project is community-driven: A bamboo field school will teach local communities how to plant, manage, and harvest their new forest. But the school desperately needs additional funds for curriculum development and to remain in operation. "Our main goal now," explains EBPP Founder David Booth, "is to manage the plants we already have in the ground. But we still need to plant something like 3,000 Hectares."
The film team spends the rest of the afternoon digging right into the replanting efforts, joining Rabik, local agro-forestry manager Pak Ketut Suwastika, and a team of project participants to plant new shoots on a steep hill above EBPP headquarters. Using local soil, organic compost, and fresh leafy mulch, each bamboo shoot is carefully planted and accompanied by a bottle of water stocked with absorbent seaweed to saturate the soil over the next few weeks. For up to three years, residents will tend the plants until they are hearty enough to withstand the elements.
Bamboo is a highly valuable construction material, serves a variety of purposes within Balinese Hindu ceremonies, and is utilized for handicrafts sold at art markets. Pak Suwastika explains that where other government reforestation projects have failed because of illegal logging, bamboo will still work: "we only have to plant bamboo once, and even if it is cut by the people here it will still re-grow."
Thanks to its rapid growth rate, Desa Ban's residents can harvest the bamboo without depleting its supply. The goal of the project is three-fold, Suwastika says: "to promote reforestation, improve the local environment, and stimulate the local economy here in Desa Ban."
This agro-forestry effort is one of many projects the Environmental Bamboo Foundation has established in Indonesia since its formation in 1993. EBF seeks to protect tropical forests by promoting and demonstrating the many conservation and development opportunities that bamboo offers. East Bali Poverty Project has been in operation since 1998 and helps to reduce poverty and promote culturally sensitive, sustainable development within impoverished rural communities.
BSF supports this project through documenting project activities. In addition to that, the Festival will present a bamboo shoot to each 2012 festivalgoer who purchases a VIP or Full Festival Pass.
This project is doing more than just contributing to carbon offset: they are helping to restore a degraded ecosystem on sacred land and supporting a community-based reforestation project that mutually benefits humans and nature.
Related Posts: