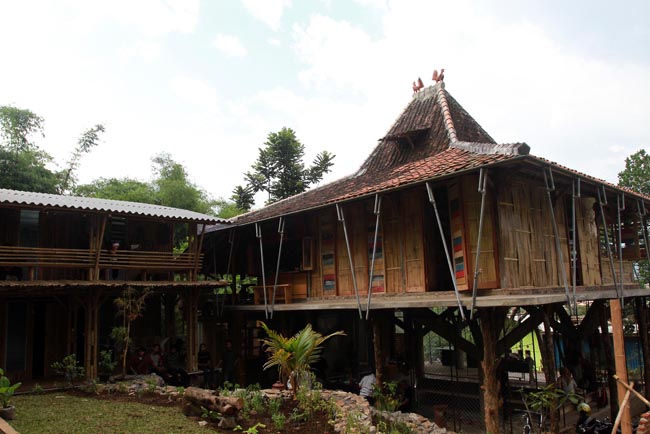 From the outskirts of Bandung city, Akanoma is making sure architecture is not only a privilege of the wealthy.
The down-to-earth Akanoma studio is ever connected with the ideals of the architect Yu Sing. He believes everyone should have the right to grow and develop in a house that inspires and is enjoyable. Unfortunately, the majority of the Indonesian public still considers architecture services to be only for those who are wealthy. He believes that the lower and middle class citizens should still be able to work with architects when building their homes. "The role of an architect in shaping a house can influence the different sensations of each room," says Yu Sung, a fan of the late Yusuf Bilyarta Mangunwijaya, an architect and humanist who is fondly known by the name Romo Mangun.
Yu Sing's first ambitions to design a house started when he was asked to design a house for a colleague's uncle. With a budget of less than 60 million rupiah (approximately US$ 6.500), Yu Sing took advantage of reclaimed materials from the old house that was being torn down.
That house, located in Caringin, Bandung, was designed to continually be developed upon so it can be constructed in stages, depending on the finances the owner has available. It is a two-story house, which is useful to conserve land and make sure there is enough green foliage and water absorption around the building. The walls were built with a concrete frame to make it earthquake resistant. Fiber cement was used for the roof, to conserve finances. The roof was also designed to harvest rainwater, which is then directed through a simple filter system so that it can be reused.
Another aspect that makes the house unique is that the left over roof shingles from the old house were used to cover the brick walls of the new house. The random color scheme on the shingles creates interesting visual shapes. "I wanted to help with this design, because even I have difficulty building a house because of limited budget. Since then, I continued helping build inexpensive houses and began writing about them," he said.
At the end of his book, Yu Sing says that one of his dreams is to design 100 inexpensive houses. "Many people in the lower and middle class really need the support of architects, but do not have the means to access these services. I have made a commitment to help with this," said Yu Sing.
The published writings on inexpensive housing received an amazing response. "In the first year alone, over 80 families contacted me," he said.
His potential clients came from all over Indonesia, including as far as Papua and Kalimantan. They would contact Yu Sing via phone and email. "Of the 80 families, I was involved in constructing about 20 of their houses, but not all of them were completed. Sometimes it was because they had used the money allocated for other expenses, so building a house was delayed," he explained.
To assist in designing these inexpensive houses, Yu Sing charges a service fee of three percent of the total project budget. This price range is applied to all clients building houses with a budget of 250 million rupiah and below. If their budget is higher, they are charged a fee of 5-7 percent, which is the national standard according to the Indonesian Architecture Association.
"Even those who have the money don't always use an architect, let alone the lower class who are building inexpensive houses."
The architects at Akanoma studio have another concept to help design an inexpensive house in Dago Giri, Bandung. The new inexpensive house belongs to Uway, a motorbike transport driver. The construction of the new house is projected to only require 27 million rupiah (approximately US$ 3,000). For the design of Uway's house, Akanoma studio is not charging a service fee. "It is our commitment that for clients with a budget of less than 40 million rupiah, we will create the design for free," he said.
However, Uway does not have enough money to build this house, and his current house is not suitable to live in anymore. Together with his friends, Yu Sing is gathering donations to help Uway build a small house; the fist floor is only 4 x 6 meters in size.
"We are compiling donations by shopping the design around social networks. So far we have already started receiving some donations. From the total goal of Rp27 million, Uway himself has around Rp10 million, so we only need to collect the remaining cost, which is Rp17 million," said Yu Sing.
Once all the donations are compiled and the house is built, Uway will return the money through installments. The goal is that once the debt is repaid, it will be used to fund the next inexpensive house project for people in similar financial situations.
Yu Sing feels a sense of satisfaction through assisting people in building houses to match their individual characters. The design of one person's house is not necessarily right for another person. "A house design should be strong, and suit the context. This needs to be explored so the house is inspiring and enjoyable. An extreme example is that a living space which is too crowded will have an impact on the mentality and thoughts of those living there," he said.
To spread similar ideas, Yu Sing has formed a network of architects from outside of Bandung. This network can help to fulfill requests for inexpensive houses from people located outside of Bandung. "We now have friends in Jakarta, Depok, Balikpapan, and Semarang who we can collaborate with. Ideally we could have networks in every area, so that the architects can meet with clients, see the location and help oversee the building process," said Yu Sing.
The network of architects is managed through Internet communication. So that when an architect is available to help design and build an inexpensive house, their work can be easily monitored. "If there is a senior architect who wants to help and for example can take on three houses per year, they can simply let us know through their online status," he explained.
Yu Sing is optimistic that this concept will work because he believes within each person there is a passion to share. It is this passion that has become his approach in his profession. Staying grounded and having a different approach or being somewhat of an anomaly is an approach which is spreading benefits to other people.
Related Posts: