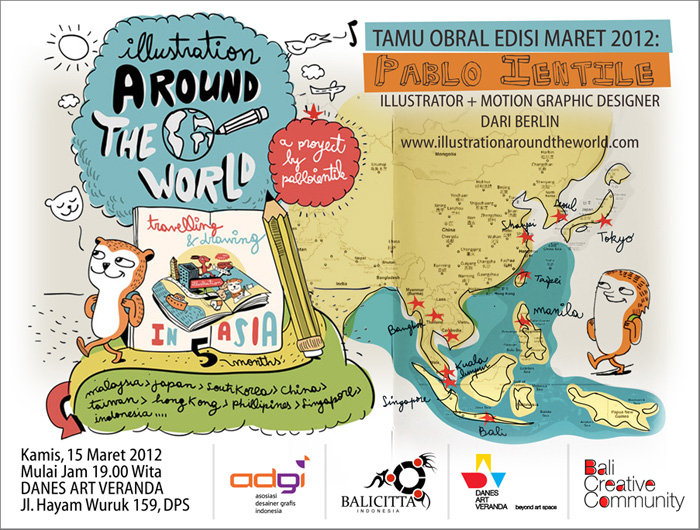 Pablo Ientile, adalah seorang Illustrator dan motion graphic designer yang tinggal dan bekerja di Madrid dan berlin. Dia studi Graphic Design di the FH, Trier, Jerman. Secara spesifik ia mendalami ilustrasi dan animasi dan saat ini bekerja sebagai freelance designer untuk perusahaan periklanan dan majalah.
Proyek "Illustration around the world" adalah misi Pablo Ientile untuk melakukan perjalanan, merekam lewat gambar dan sketsa dan berjumpa artis serta desainer di negara-negara atau tempat yang disinggahinya. Pablo berencana akan membukukan perjalanannya ini pada pertengahan tahun ini.
Proyek ini membuatnya sangat bersemangat dan Bali adalah salah satu tempat yang menjadi favorit dalam perjalanannya. Sebelum kembali ke Jerman akhir pekan ini Pablo ingin berbagi dan berjumpa dengan insan kreatif di Bali sekaligus bertukar pengalaman dan cerita.
Obral 15 Maret 2012
Tempat: Danes Art Veranda, Jl Hayam Wuruk no 159 Denpasar
Waktu: 19.00 WITA
Related Posts: